Sunday, July 01, 2007
Back to Life
Now I know how fast time goes by, but this week was ridiculous.
On Sunday we headed up to the Timeshare we have with my Mom and
Sister
. It is located outside of the Catskills in a tiny little town in New York State. My Sister and I grew up going there with our GP's. We stopped going for a while when our GF died there when I was 9. I started going again when I was a teenager. Now that our GM handed it over to us, we're going as often as we can. It's a wonderful family resort with lots of swimming, games, tennis, bowling, golf, bumper boats, etc. They have a camp for kids as well. You can basically go there and hybernate in your room with a full kitchen or never see the inside of your room. It's even more perfect for us b/c of Kayla's allergy. When it was just J and me we would go out to eat a few times and eat in at times. But with Kayla's special needs, it's so much easier to be able to eat in every meal and be out and about to play.
I will say though how your place in life changes your perspective. I remember when it would be just the 2 of us, besides the fact that we could do adult things and not worry about naps and watching out for 2 little ones, but we would wake up at 10 or later and be like - the housekeeper wants to come in already to clean the room? This time, it hit us that things open there SO late. The outdoor pool opens at 9, but everything else doesn't open until 10. When your kids get up at 6am, you feel like half your day is over by the time you can actually go and do something. There is only so much you can walk around the grouds - ESPECIALLY when the resort is in the mountains so you're constantly walking up and down hill, either carrying or pushing a Toddler and a Preschooler. :)
The girls loved it there. They were thrilled with the huge playground and of course they couldn't care less that it was technically for ages 5 and up. They'll go down any slide and run around w/o a second thought about how high up they are. I left that part to J b/c he's more "daring" with them than me and I'm afraid of heights. I don't need to project that phobia onto them. But they both did really well on the huge slides as well, so I'm glad I let J take over the reigns on that.
We stayed at the resort through Wed and this was actually just the right amount of time. The girls did better than I thought sleeping in the same room (or Kayla did) but it was still not great. The first night they were both so zonked that it was perfect. Alysa never napped in the car, so she went to bed at 6pm. We put Kayla down at 7 and she was very quiet and went to sleep quickly. But Kayla woke up at 6am (but luckily in a good mood) and woke Alysa up. That night, we put Alysa down at 7 but she was still awake at 8 when we put Kayla in bed, so all we heard were giggles and screeching until 10pm. Kayla woke up crying at 6am Tuesday morning. Needless to say they were exhausted Tuesday. That night Alysa was asleep when Kayla went to bed but Kayla woke her up with chatter so again it was giggles until around 10. Kayla woke up Wed crying at 4:45am. I quickly got her and Alysa went back to sleep until 6:45 and Kayla thankfully slept with me for 1.5 more hours. Oh and luckily it didn't seem to scar Kayla that J and I slept in separate beds. When you're used to a king bed, it just doesn't work squeezing both of us into a full size bed. :) But we were in the same room. LOL
The girls loved the kiddie pool and J and I found that more relaxing than the big pool since the kiddie pool was virtually empty the entire time and we could sit back, relax and watch the girls have a blast. The indoor pool was a huge hit as well b/c it had a small slide that went into the shallow end so the girls could actually use the slide. Kayla, although it was with her floaties on, of course, actually swam on her own. She learned to kick and paddle to get from the steps to J or me. We're very proud that she made that hug step.
Then there's the game room. With a big ball pit and tunnel climbing extravaganza. Kayla was so into it. Alysa loved the ball pit and tried a couple times to head into the tunnels. She liked it but when she got to the slide, our little dare-devil wouldn't go down it. We think it's b/c you couldn't see the bottom from up top. So that meant J and I took turns climbing into the tunnels to show her the way to the slide. The 3rd time she went up, she went down by herself. Kayla even made a friend one day. Little Landon - who is her age. They had so much fun playing in the tunnels together. Poor Alysa - we could tell she felt left out when they ventured up in to the tunnels.
Kayla was also intrigued by the game "Shubble". What is shubble you ask - it's shuffle board - how could you not know that? ;)
On the way home we stopped at my gf's. She is right on the way and I was able to see her newborn and her two older boys (both Kayla and Alysa's ages). We had a nice visit. J was very nice to stop with me as her hubby was at work, so he was surrounded by girl talk and kids. :)
Thursday we went to an Insectarium in Philadelphia. Very creepy - I don't like bugs. The girls had fun and I have to admit it was interesting. The girls touched some bugs as well. The only one Kayla would not touch was the hissing cockroach - can't say that I blame her. But Alysa liked it. They each got a plastic bug to bring home. I picked out a lady bug and grasshopper - both harmless bugs that I can deal with. J then had to get them each a toy plastic cockroach. Um...so now I get freaked out every time I see these things on the floor. The worst was when I see Alysa walk in the room with it in her mouth. YUCK!!!
Friday we took them to Storybook Land. It's an awesome amusement park for young kids. And all the rides can accomodate adults too. The girls had a BLAST!!! The went on almost every ride over and over again. Kayla with her fear of characters, actually went on the carousel (a horse) and the elephants and dragons. But only once on each. She wouldn't go near them again. Alysa couldn't care less what any of them were. It was actually perfect weather. A bit rainy and cooler, but it was not too much to dampen the day, but enough to keep the crowds away. So no lines. Yay! As we were leaving, Kayla said - "We can come back some day". Of course she asks multiple times a day if we are going back. :)
That should cover the gist of it. This has taken me ALL day. Here are some pics from our vacation!
Fun in the pools: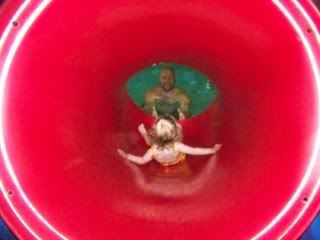 Playing "Shubble"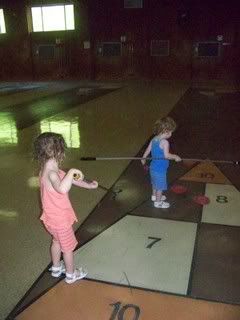 Kayla swimming
At the Insectarium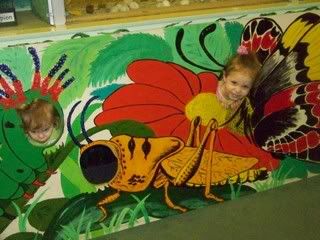 At Storybook Land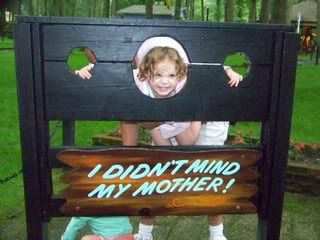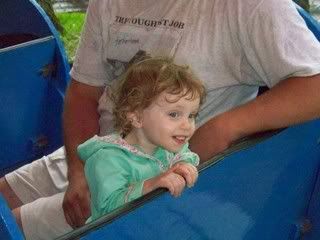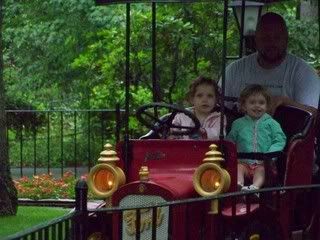 I hope everyone had a great week. I'll be continuing my journey of catch-up over the next few days.

posted at
8:47 AM
3 comments