Wednesday, April 29, 2009
Special Agent Oso
This is one of the new shows the girls have decided they love. I think it is fairly new to Disney's Playhouse Disney line-up. If not, I've just never heard of it before.
It's a cute enough show (not quite as entertaining in my opinion as the Little Einsteins, but Special Agent Oso helps kids tackle tasks by using 3 steps). But this has fast become my favorite new show because one of the episodes is about food allergies.
The episode is entitled "On Her Cousin's Favorite Salad" and comes after "License to Clean". When Jade's cousin is coming over she wants to make a pizza for lunch. Jade's Mom tells her they can't because her cousin Rachael has food allergies. She tells Jade Rachael can not eat cheese or bread and if she does she will get sick. Jade is disappointed and sad for her cousin but then her Mom says she can make a special salad for them to have for lunch. The rest of the episode is how Special Agent Oso helps her make a salad.
It's a cute episode and really great for little people. It's simple and to the point and addresses it in a non-threatening and non-negative way. I give Disney two thumbs up for putting this in their show. I'm glad this episode is currently on On Demand and will make sure the girls wear it out until it expires.
It will be
airing
Sunday May 3rd at 8am on the Disney channel for those who are interested.

posted at
5:23 PM
2 comments


Tuesday, April 28, 2009
FAAN Conference - FINALLY!
I finally got my info from March's conference finished. Just a month late, but who's counting?

So Saturday was my trip to Baltimore for FAAN's Food Allergy Conference. I was up bright and early at 4:30 am and left my house at 5:30. Thankfully, I was not alone for the drive and it was a traffic-free one. It was raining, but it was all pretty light so it did not hold us up very much.

The conference began at 8:30 and went until 4:45. We arrived at about 7:50 which gave us ample time to register and look at the information they had available. They had on display many of the informational pamphlets they sell through FAAN as well as their epi pen pouches and children's books. The children's books are teaching tools not only for the children with allergies, but also for friends, family and they even have a book for non-allergic siblings. The great part was they had the items there for purchase, so I was able to come home with a few things without paying any shipping costs. I purchased 3 pamphlets – one that is a parent's guide to schools, a teacher's guide and one on laws for schools – I also got two of their children's books – Lenny the Lion learns to read labels (Lenny just so happens to be allergic to dairy) and Susie's Sister has Food Allergies (obviously a book for Alysa). They also had a little stuffed Lenny and his t-shirt says, "Lenny the Lion allergic to milk". That was a little splurge for Kayla and it made her day.

I have to say FAAN did an excellent job with the conference. They took a long day of 8 hours and made what could have been a very boring day very interesting with a lot of information and broke it up and changed it up so that it was anything but boring. There was a good mix of practical and factual information on diagnosing and voiding reactions as well as what studies are going on currently and what is on the horizon. Aside from the informational aspects they had a dietician speak with some tips on eating well in spite of food allergies as well as a person from the restaurant industry who helps her company focus on giving the food allergic a viable and safe option for enjoying a restaurant meal. There were also two fathers who spoke and gave some insight into the emotional aspects and coping mechanisms. Another great speaker was a 17 year old with a peanut and tree nut allergy. It was great to see a teenager who has lived with her allergy and all that she is involved in and accomplished – groups, clubs, travel and a fulfilling life. What parent doesn't want that for their child?

The speakers and schedule was as follows:
- Dr. Robert Wood – Director of Allergy & Immunology at Johns Hopkins University – he is not only top in the field but a peanut allergy sufferer himself.
- Lori Enriquez – Registered Dietician
- Christopher Weiss – Director of Legislative and Regulatory Research at FAAN
- Tony Mussorfiti – a Firefighter and Emergency Responder and a father of a dairy allergic teen
- Chris Ryan – a father of a 19 year old who is allergic to eggs, tree nuts and shellfish
- Caitlin – 17 year old allergic to peanuts and tree nuts
- Victoria Griffith – Director of Quality Assurance at Clydes Restaurant Group

Schedule:

- What Everyone Should Know About Food Allergies – Dr. Wood
- Eating Well With Food Allergies – Lori Enriquez
- Anaphylaxis: How to Take Action – Dr. Wood
- Reactions in Schools – Lessons Learned – Christopher Weiss
- Emergency Preparedness for People With Food Allergies – Tony Mussorfiti
- From Crib to College with Food Allergies: A Father's Perspective – Chris Ryan
- Food Allergies Don't Define Me – Caitlin
- An Insider's Views on Dining Out – Victoria Griffith
- Research Update – Dr. Wood
- Question & Answer – two sessions

And now for some things I got out of the meeting:

Christopher Weiss gave data on an informative study done in Massachusetts on epi pen usage and reactions in school. They have been collecting data in recent years and have published the data from a 2 year period in (I believe) 1994-1995 (my allergist currently has my pamphlets). They kept track of every time an epi pen was administered and where the reaction occurred. I believe it was very telling to see that only 8% of reactions occurred in the cafeteria. This is the place where you would think the highest risk would be with food everywhere. But even in the absence of food bans and the high presence of food, as long as proper procedures and controls are put into place, the risk can be very low. Kayla is a perfect example of this in her classroom at school. The highest rate of reactions occurred in the classroom at 46%. For any parent of a food allergic child, this will probably not come as a surprise. Food has become, for some ridiculous reason, an intrical part of the classroom and curriculum. Although I do not support overall food bans in schools, I do support allergen "bans" in classrooms (within reason and when warranted) or an overall food ban if the people in charge do not manage the food well. Again, as long as it is managed well, there is no need for too many food restrictions. But I ask you, what is the need and purpose for food in the classroom? Parties, if needed, can be held in the cafeteria.

One thing I really loved about the conference was it was not all technical. There was plenty of information and stats and facts. But they also added an emotional and coping aspect to it. They had two parents of food allergic children speak. One was the fireman who spoke of the extra importance of emergency preparedness when you have a food allergic child and he was also a father of a 19 year old with a food allergy. So he brought the perspective of a parent and that of one as an emergency responder to his talk which added more to what he had to say. The other father has a child in college as well. He spoke of all the issues we face as parents both the logistical ways to keep our kids safe as well as the emotional ups and downs. He added quite a bit of humor to his speech as well. Let's face it, some of what we do is comical. Like feeding our children out of our purses when we are in a restaurant (if and when we go to a restaurant). When you're in a room full of people who truly get it, it's quite easy to let go of some of the tension and see the humor when their usually is none to be seen. You know there is no animosity or ignorance – just camaraderie and understanding. Nothing is intended as a way to make you feel bad or inadequate, but just looking at how we live daily. The good, the bad and the humorous. The teen, Caitlin was an excellent speaker. She is what I hope Kayla (and Alysa) grow up to be. She has taken charge of her life. She is very active in extra curricular activities and has even traveled (by 17) without her parents, which I'm sure was no easy thing for her parents to let her do. I give them so much credit as well. They have raised a young woman who is responsible for her own safety and has an excellent and bright outlook on her life and future. She doesn't let her food allergy define her and she has surrounded herself with friends who care enough to keep her safe. She made the wonderful point that if someone won't be good for her and help her or understand, she will not be friends with them. She knows who she can trust and who she can not.

Dr. Wood, whom I have heard so much about, was great. He was an excellent speaker and gave us a lot of information. It was pretty scary though to see some of the pictures he showed. On boy in particular was probably around 6 or 7 and was covered in head to toe hives because a classmate thought it would be funny to spit milk at him through a straw and he was contact-reactive. It really sent chills down my spine.

With two 45 minute question and answer periods, there was plenty of time to answer many questions. One person posed the question to Caitlin if she had ever been bullied. She said she has not, but one of the fathers said his son was once threatened with peanut butter in school. His way of dealing with it was to go the Principal and simply ask him what the school's policy was on dealing with weapons in school. The incident was then dealt with to his satisfaction.

Dr. Wood was able to touch on some of the studies being done on food allergies. Many which we've heard about. Many of the studies are around vaccine development or desensitization. Some of these studies are ones he is directly involved in and really need a separate post since this one is already pretty long.

It was a great conference and I highly recommend it to anyone affected by food allergies, whether in their every day lives (self/parent/care giver) or if you have a friend, friend's child, relative, child's friend or even if you just want to learn more. As someone who is directly affected, I know our best defense is accurate education.


posted at
8:00 AM
2 comments


Sunday, April 26, 2009
She had a rough weekend
Poor Alysa - she had fun playing outside all weekend, but fell, not once, not twice, but THREE times on the sidewalk/street. So Saturday night and Sunday, she looked quite pathetically, like this...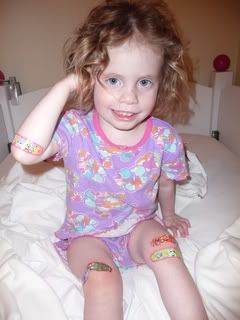 posted at
4:18 PM
2 comments


Saturday, April 25, 2009
My worst nightmare
In
Gina Clowes'
latest newsletter, she published a story written by Brian Hom, a father who lost is 18 year old son to a peanut allergy.
As of this morning, the latest issue was not yet on her site, so I'm posting it in its entirety below, but you can go to her site
here
. Below the article is an interview with Brian Hom that Gina conducted. It is very eye opening.
A Parents Worst Nightmare

By Brian Hom

I was invited to share the story of my 18 year old son BJ Hom (right) who passed away last summer on July 1, 2008 from an allergic reaction from peanuts while vacationing in Mexico.

BJ was a loving son and brother and a good loyal friend to all who knew him. As our first born son, he never asked for much. He was quiet and kind and very content with a simple life. BJ was known for his shy smile. If you tried to make him laugh, he would look at you indirectly and crack a small smile.

Last summer, our family planned a very special vacation to Los Cabos, Mexico to celebrate BJ's high school graduation and his 18th birthday. We had no idea then that the vacation we looked forward to so much would turn out to be the worst time of our lives.

It started on July 1, 2008. We were so excited as we landed in Mexico at 7 pm and quickly checked into the resort. We put our suitcases in our room without unpacking and headed straight to a buffet dinner at the resort restaurant around 8:45.pm. We finished a quick and uneventful meal by 9:20 and decided to walk around the resort to look at the pool and the beach.

It was just as we started our walk that BJ spoke his last words to me, "Dad my throat hurts. Can you buy me some cough drops?"

I bought BJ some cough drops from the resort gift shop and we separated after that. My other sons and I headed to the resort arcade while BJ stayed with my wife Kathy.

BJ told her "Mom, I don't feel well. Can we go to the room?" So they headed toward the elevator, but things quickly took a turn for the worse. BJ's lips turned blue, his face turned very pale, and he was grabbing his chest as he could no longer breathe. Kathy led him to a couch in the lobby to sit down but he collapsed on the floor of the lobby before he could make it there.

Minutes later, a lady came rushing in to us at the arcade and said "Your son is very ill and you need to come to the lobby!" I was very concerned but I didn't know what to think. I thought he might have been choking on something, maybe on the cough drop.

When I got there, I couldn't believe what I saw. BJ's eyes were open but he couldn't talk and was gasping for air. The hotel staff was frantically trying to give first aid assistance. The paramedics arrived within ten minutes and continued in their attempts to help my son.

At one point, we knew he stopped breathing so my wife and I kept asking where the doctor was. When the doctor arrived, they continued with frantic attempts to revive him with oxygen and CPR. The paramedics gave us hope that he might be breathing again. So we kept asking the doctor "Is he going to be okay? "

Finally, the doctor responded to us. He hesitated for a minute, took a deep breath and said "Sorry" Then he closed my son's eyes and covered his head with a blanket. There wasn't much else he could do.

This was the worst and most heartbreaking day in our lives. Kathy and I felt like someone had reached into our chest and ripped out our hearts. To this day, I still can't believe it really happened. But it did happen and that is why I am on a mission now. I have two other boys at home, BJ's brothers, who have peanut [and sesame] allergies too. I want the world to know that food allergies are real and this is what can happen if you are not prepared to deal with them.

This article is dedicated to the loving memory of my son Brian James Hom II.

Q&A With Brian Hom

I know that many of you will have questions about BJ's story so I'm grateful to share my interview with Brian Hom with you.

Gina Clowes: Brian, thank you so much for talking with me. I know it must be difficult but you've also shared with me that you're determined to share BJ's story in the hopes of protecting others.

Brian Hom: Yes, and I am in a unique situation in that I have two other sons at home, BJ's younger brothers, who also have peanut allergies. I have to protect my son's.

GC: Let's talk a little bit about your family's history. Do you or your wife Kathy have allergies?

BH: No.

GC: How did you find out that BJ had food allergies?

BH: When he was two years old, he ate something that he reacted to in a restaurant with hives, some redness and swelling on his face. A few years later at preschool, he bit into a piece of candy and had another reaction. Neither time did he have breathing problems.

GC: Did he ever have to go to the emergency room for treatment of his food allergies?

BH: Oh, no.

GC: Was he prescribed an Epi-Pen?

BH: He did when he was younger, but later it seemed manageable without it. We figured an epi-pen was necessary for extreme reactions.

If I had any idea or would have seen what happened that day, I would have carried it with me. I can't tell you how much I wish he was going to get a second chance. I never had any idea that something like this could really happen.

GC: You told me that BJ's anaphylactic reaction in Mexico was completely different from the few previous reactions that he had. How so?

BH: His previous reactions were visible reactions on his skin. He'd get hives, and redness. He had never, ever had this difficulty breathing. This last time, he had no hives. In fact, he was completely pale.

GC: When BJ asked you for the cough drops, did you think that he might be experiencing an allergic reaction?

BH: No, no. He asked for cough drops occasionally. Looking back now though I wonder if these could have been other milder reactions that even he was not aware were allergic reactions.

GC: Had BJ ever complained before about his throat hurting as a symptom of food allergy?

BH: No, never. We were so used to see a rash on his face.

GC: What did you think when BJ asked for the cough drops?

BH: I was thinking: How could he have a sore throat? We just flew from San Jose and he was fine..

GC: What types of reactions had BJ had in the past?

BH: He would always get hives. His face would get red and swollen. We thought that this would be the way reactions would happen for him.

This [last] reaction was so dramatically different. He had no hives, or redness. Yet this time he died within minutes of finishing his last meal.

GC: Did you believe that BJ had a "mild" peanut allergy?

BH: Yes. I had heard stories of people dying but I didn't think we were dealing with that same thing. BJ had had hives on his face once and swollen lip but we gave him Benadryl and they went away.

Now, I meet people who have kids with allergies, and I think they're in denial about how serious it can be. Maybe I was in denial too. We never ever imagined that anything like this could happen.

GC: Do you believe you know what caused BJ's anaphylaxis?

BH: Yes, it was a chocolate mousse dessert from the buffet. I warn families now to avoid buffets.

We only put this together later when my other son started to experience itching and swelling. He was quickly treated with an injection and some pills. (We assumed the injection was epinephrine.) BJ and my son Steven both ate the same dessert.

GC: What do you think or feel when you hear the backlash against food allergy families or accommodations for these children?

BH: Let them lose a child and see how they feel and they'll see it differently.

It's easy to say "My rights are being violated" because you don't really believe it's real and so you don't understand the reason for the accommodations.

GC: How are you and your family doing?

BH: It's so painful. My sons are sad, sometimes angry, sometimes scared.

There is not a day that I don't think about him. My wife and I are heartbroken. We visit him every week at the cemetery. The lifelong living without your child and having to bury them. You don't want your worst enemy to have to experience this.

GC: Are your sons being given appropriate accommodations in school?

BH: Yes, they are. Thank you. And we feel better about that now.

We planted a tree and put a memorial there to Brian James Hom II and we had the plaque state that he died of an allergic reaction to peanuts. We want people to know.

GC: What are your hopes for the future?

BH: That there is going to be a cure. That nobody out there has to die from a peanut allergy or a food allergy.

GC: Your family's story is heart-breaking. I know it can't be easy to talk about this. Why do you do it?

BH: I think of him constantly so whether I talk about it or not, it is always there. If telling my story will help someone else, I want to do that.

Sharing this story and having it happen are so different. This shouldn't have to happen.

GC: What would you like to share with other parents?

BH: In this case, the loss of my son to peanut allergy and witnessing his death in front of our eyes was horrific. We were totally helpless.

I still remember like yesterday being by his side in the delivery room with my wife when he was born and I will always remember being by his side with my wife when he died. The total pain, and sorrow of setting up the funeral services and burial within days of his death were unbearable.

Now, I have to do everything in my power to protect my younger sons. Their brother died so that these guys can live. It is a lesson learned for us and for them. We live daily with the loss but if I can prevent this from happening again to anyone, anywhere, I want to do that.
I think it's most important to make note that until BJ's deadly reaction, all his previous reactions had been "superficial".
Just
hives and a swollen lip or two, all of which were cleared up with Benadryl. And since they believe their son to have a
mild
peanut allergy, they did not carry epi pens with him. Had they done so, he most likely would have been saved.
This is a nightmare and a very hard story for me, as a food allergy parent to read, but so important for those outside our "community". This article is especially important for those who do not take food allergies seriously and for those who think, "they'll only get a rash".

posted at
9:33 PM
1 comments


Wednesday, April 22, 2009
And so it begins
Today is Earth Day. I am not a "subscriber" to global warming and I never have been. I don't believe in the hype or the threat that many would have us believe. I believe that the earth's climate is cyclical, as it always has been. For those that have been paying attention, you'll notice the term "global warming" has been replaced with "climate change". That is because the trend has been shifting from warming to cooling. In the 70's the hype was global cooling and it looks like we're heading back there. Don't get me wrong, I love the earth. I think it's a beautiful planet. And without what the earth has to offer, we would not enjoy the life and luxuries that we have. We also are big recyclers. But we have always recycled simply because it makes sense both practically and financially. But it is all done for our own reasons and based on our own values. And this works for us.

I've always known that when Kayla hit school, I would have to work against the grain to instill in her the values that are important to J and me. We have to work to counteract the things we know to be false or do not want her taking away from school. Things that in all honesty have no place in school. Well, some of this started last night.

Kayla came up to me last night and asked, "Mommy, is tomorrow Earth Day?". She took me off guard to be honest. I had only heard in passing that it was earth day because it is not a day I really follow. Now I have no idea what exactly they told her at school about earth day. So I just sat down in the hallway with her and as simply as I could, I told her that the earth is a great planet and it has a lot of great things. Trees, grass, water, etc. I also told her that we use the trees to make paper and build houses and we drink the water. I told her we need to use what the earth has to live. Simple and to the point. She liked what I told her because she was the one that pointed out the earth has grass. :)


posted at
4:59 PM
4 comments


Wednesday, April 15, 2009
Things I'm grateful for...
As I pack up to drive out to visit my
Big Sis
, I wanted to list a few things I am thankful for.
I am grateful for a
Sister
who:
...along with her entire family, eats dairy-free for the duration of our stay;
...stops giving her kids dairy snacks/food outside the kitchen for at least a week before we arrive;
...stops bringing dairy snacks (aka evil gold fish) into her car for a week before we arrive;
...vacuums out her car before we arrive so no traces of the evil fish trail into her home;
...cleans not only her kitchen, but her microwave and other appliances;
...cleans her fridge, makes an entire shelf dairy-free and cleans the outside of her jars of food in the fridge to minimize cross-contamination risks;
...washes her floors, chairs, door knobs and other surfaces;
...cleans the kids' toys to the best of her ability;
...vacuums the floors, couch and each and every couch cushion and pillow;
...puts away her dairy-containing shampoos so they are not used accidentally;
...is willing to open brandy new packages of food she already has opened so that nothing will be cross-contaminated when we eat there (i.e. cereals, ketchup, mayo, etc.);
...ships her kids off to the babysitter's house the day before we arrive so she can spend the day cleaning her house from top to bottom;
...all this to keep one very special little girl safe!
Thanks
Chris
! You're the best!!! Can't wait to see you tomorrow!

posted at
9:10 PM
3 comments


Sunday, April 12, 2009
Easter Bunny Train
Yesterday, we took the girls on a train ride with the Easter Bunny. It's an old train from the 1930's that goes between towns up by my parents. We went with Kayla's BFF Emma and they had a blast.
Before I went, I was in touch with someone with the train company and they were a great help with getting Kayla a safe treat. Kayla is always so great with understanding having to trade unsafe candy for safe candy, but I wanted to try to add to the magic by getting her safe candy directly from the Big Bunny herself.
When I arrived, I talked to the man who was escorting her and gave him some candy. When she came by, he pointed Kayla out to the Bunny and she handed Kayla directly her safe candy. Her face was priceless when she saw the Easter Bunny knew her and gave her safe candy. I love the magic they believe in.
The girls on the train
Me and the girls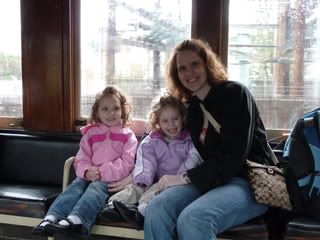 Kayla realizing the candy being handed to her is SAFE!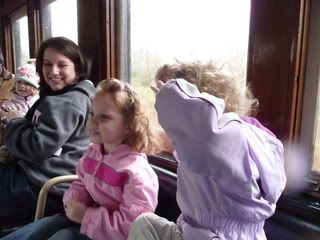 With the Bunny
BFF's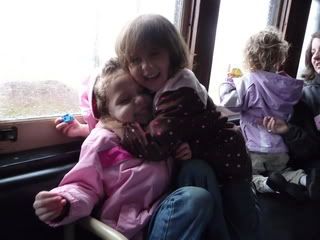 Happy Easter everyone!

posted at
12:38 PM
4 comments


Monday, April 06, 2009
Glad to know I'm loved
Last week a coworker's husband died. So last night, when J got home from work I went to the viewing. As I was getting ready to leave, Alysa asked me where I was going. I told her I was going to a funeral. She looked puzzled, so I told her a funeral is what you have when someone dies. She looked at me and said,

"Mommy. When you die, I will give you a funeral."

Thanks kiddo.


posted at
12:46 PM
0 comments


Friday, April 03, 2009
Potty Training Update
So far so good...We're on our 3rd day and so far no accidents (knock*on*wood). She's even gone poop on the potty. She did get up this morning and said she was all done with the potty. But, she's still going strong and very proud of herself.

I, on the other hand, will be proud of myself when I get caught up.


posted at
11:48 AM
1 comments


Wednesday, April 01, 2009
Sad Days
Our friends Jen & Jeff have sold their house with a closing on April 30th. I'm happy for them that they sold it. But I'm upset they are closing in 30 days. If only Kayla knew what was coming her way. May will be a sad, sad month.




In other news – today, in our house, is officially known as "Bye Bye Pull-Up Day". Except for night time Alysa has to say good bye to pull-ups and will be helping to clean up any messes she makes in the transition. Wish us luck. She will be in school in 5 months!

I am also working on a long post about the FAAN Conference. It was a great event and I got a lot of great information and really enjoyed it. So keep a look out for it. I hope to have it done in the next couple of days. Did I mention I also need to catch up with all of you too?


posted at
1:30 PM
1 comments