Tuesday, November 20, 2007
Happy Thanksgiving
I've been slowly making the rounds in between visitors and getting ready for Thanksgiving. Although I'm enjoying the company, it will be nice when things slow down next week.

I took the girls to Hallmark this past weekend to get their Christmas ornaments. Alysa picked out a Thomas the Tank one and Kayla got one with Mickey and friends riding on a train - yes it moves. It was a bit more than I planned on, but better than the $44 one she wanted initially. ;) Now she keeps asking me where her tree is. I'm having a hard time holding her off until after Alysa's party.

We went to a birthday party on Saturday which was...interesting... It was at a play place, but it was not what I expected. It was a HUGE maze of tunnels all up high at ceiling level. Thankfully my Mom was there to help police the food, although I'm sure she's not happy. I couldn't accompany both girls in the tunnels (and they both needed someone with them with the size and tons of older kids) since they were heading in opposite directions and WAY too excited to listen to "Wait!". They had a blast and I ended up with bruised knees and sore arms and shoulders. But I will say it was fun. Brings you back to childhood a bit. I will post some pics when I get them all organized.

I'm just about done with my Christmas shopping. Will get the last few items Saturday with some coupons I have. So my goal of being done by Thanksgiving will have been met. Yay! Then it's just wrapping.....

We'll have 14 people for Thanksgiving this year. Our menu will be Turkey, Ham, sweat potato casserole, green beans, salad and bread. For dessert, an apple pie, rice pudding and pumpkin bread. Everything is dairy-free and home made. I will post the recipes in a few days.

This year, I'm thankful to have my family around and especially since all of them who will be here in NJ are wonderful and really do what it takes to keep Kayla safe. So it will be a nice fun week and I will so enjoy seeing Kayla and Alysa getting all this time with their cousins.

I hope everyone has a great week and a great Thanksgiving!


posted at
9:05 AM
3 comments


Friday, November 16, 2007
Milk Allergy Article
My Mother forwarded this article to me today. I had heard this previously, but more in a 'through the grapevine' sort of way. Like my mood about Kayla's allergy wasn't bad enough this week...
I will be running to the airport soon to pick up my GM and I plan on getting on-line to post and visit this weekend. I need a swift kick to get me back into gear. Any volunteers...?
You find the original article
here
.
Study: Milk allergy can take years longer to outgrow
WASHINGTON (CNN) -- When Julianne Jaffe Cohen was looking at colleges for her son Jeremy, the first question she asked was not about the academics. Instead, she wanted to know whether there was a hospital nearby.
Jeremy Cohen has already had one major allergic reaction since starting college this fall.
She had "sleepless nights in the beginning, but I was determined to let this child live his life," Cohen said.
Jeremy Cohen is allergic to all dairy products which means if he eats any food containing even a small amount of milk, cheese, or yogurt, he can become very ill.
"At the slightest consumption of dairy, I break out into hives, coughing and have to go to the hospital. ... It's a very, very severe reaction," Jeremy said in a telephone interview from the campus of Colgate University in Hamilton, New York, where he is a freshman.
His mother's fears have already been realized. Since he started school this fall, Jeremy has had one major allergic reaction that sent him to the hospital after eating at a restaurant. "All of a sudden I started feeling sick, coughing, turned bright red, and had hives all over." A policeman in the neighborhood drove him to a nearby hospital. Watch why milk allergies are more difficult to outgrow. »
A new study published in the November issue of the Journal of Allergy and Clinical Immunology suggests that 18-year-old Jeremy is not alone. The study showed that most children who had a milk allergy as infants did not outgrow the disease before entering elementary school, according to Dr. Robert Wood, chief of Pediatric Allergy and Immunology at the Johns Hopkins University School of Medicine in Baltimore, Maryland. Wood, one of the study's authors, said that finding was contrary to previous research.
For infants and young children, milk allergy is still the most common food allergy, affecting 2 percent to 3 percent of that population, the study noted.
Researchers found a "significantly different natural history of milk allergy than what had been reported in virtually all of the previous studies. ... They would have said that the vast majority of milk allergy is outgrown by age 3 and if not by 3 certainly by 5 or 6," Wood said.
According to the study, which examined children who had been sent by a doctor to a pediatric allergy center, "the prognosis for developing tolerance [to milk] is worse than previously estimated."
The study found that 19 percent of the group outgrew their allergy to milk by the age of 4; 42 percent by the age of 8; 64 percent by the age of 12. The study found that 79 percent of the group outgrew their allergy to milk by the age of 16, which means one in five did not outgrow the milk allergy by that age.
The authors said that the character of cow's milk allergy "has changed over time ... and may now truly be a more persistent disease."
"One of the huge frustrations for parents of milk-allergic children is that they will typically find that someone with peanut allergy gets lots of respect and lots of precautions taken and the same respect is almost impossible to get for milk allergy," Wood says. Examples of precautions are cleaning school lunch tables well or placing children with peanut butter at a separate table. "Whatever precautions need to be in place for something like peanut allergy, need to be in place for milk allergy as well," says Wood.
The study also found that even though many did not outgrow the allergy by age 3, some patients were able to outgrow it "well into adolescence," indicating that "there is no age at which outgrowing CMA (cow's milk allergy) is impossible."
When exposed to milk, children in the study had a range of reactions, including rashes, hives, gastrointestinal symptoms, respiratory difficulties and even multiple-organ anaphylactic shock, a severe, sometimes fatal reaction.
With data collected on 807 patients, this was the largest group of milk-allergic children ever studied.
Ninety-one percent of the children studied were allergic to at least one other food besides milk, suggesting this might be a particularly allergic group, especially since they had been referred to a pediatric allergy clinic.
The study found that kids who had asthma and hay fever were less likely to outgrow milk allergy. There was also a worse prognosis for those who had ever received infant formula.
An estimated 2 percent of U.S. adults and 4 percent to 8 percent of children suffer from food allergies, and about 150 individuals die from them every year, according to the Centers for Disease Control and Prevention.
A study by the Food Allergy and Anaphylaxis Network and the Mount Sinai School of Medicine in New York showed the number of children allergic to peanuts doubled between 1997 and 2002.
Wood and his team concluded that a simple blood test measuring milk-specific, or IgE antibodies can have enormous value in predicting who will and will not outgrow a milk allergy. "That test has pretty significant value in predicting the natural history" of the disease and is widely available, Wood said.
Dr. Wood last year saw 75 patients allergic to milk heading to college.
Jeremy Cohen and his family believe he will be allergic to milk for life, a belief supported by the study. Though he is a college student who has to watch what he consumes, he won't let that suppress his appetite for enjoying campus life. E-mail to a friend
I hope everyone is having a great weekend and getting ready for Thanksgiving. I am having dinner here, so will post our dairy-free menu (feeding 14) at a later date - it is not yet finalized. :)

posted at
4:32 PM
2 comments


Tuesday, November 13, 2007
MIA
Sorry I haven't been around. Last week I was mentally preparing/obsessing over Kayla's skin test which was this past Saturday. I was quite the nervous wreck. Rightly so, as she failed it miserably, so now we must wait another 6 months for her next test. I'm not too confident she'll even outgrow it, but that's this week. This week I've been all out of sorts left over from her test, plus we now have to explore Alysa possibly having asthma or just an asthmatic cough or some other type of chronic cough (possibly from her reflux). Plus putting Alysa on an evil drug to help her esophagus muscle spasms.

J changed jobs Sunday which is causing a whole bunch of doctor rotation/insurance nightmares, so I have not been able to muster up the energy to type.

Hopefully next week will bring better moods for me since my Sis and her family will be visiting and it's Thanksgiving. Not to mention I can't wait until Thanksgiving Weekend so I can decorate my house. :)

Please bear with me as I sort through all the stuff I'm trying to organize and fix. I will be trying to muster up more energy to catch up a bit this week and next.

I hope everyone is doing well.
:)


posted at
12:14 PM
4 comments


Thursday, November 01, 2007
Halloween Pictures
You can read about our Halloween adventures
here
.
I got the pics uploaded. Here are some of them...
Kayla the Mermaid
Me and the girls...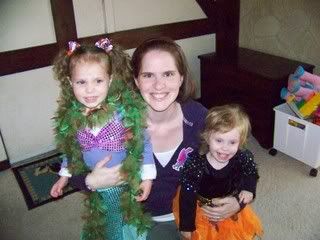 Isn't she the cutest little witch ever?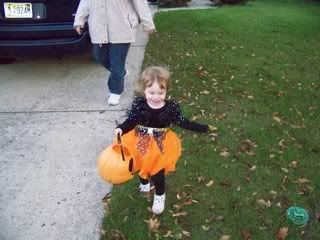 Kayla was being a bit lazy in the beginning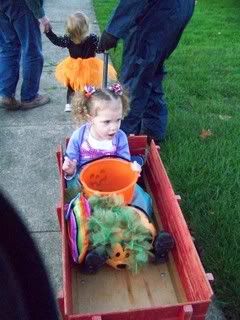 Trick-or-Treating with Gramps
Ever-so patient
Loving sisters
Alysa on my shoulders, "ducking" under trees - boy did my neck hurt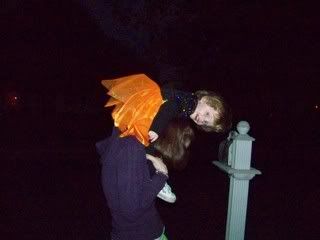 The 4 of us - J was dressed as a mechanic - he does not usually go out in coveralls. :)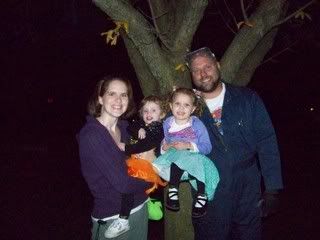 Can't wait to see everyone else's pictures!

posted at
8:24 PM
7 comments


A Fun Halloween
Well, Halloween was a success. Kayla gladly went trick-or-treating and loved all of it! It took only 1 house for them to warm up to seeing a bunch of strangers. Alysa was actually the crankier child - she has a slight cough and was cranky all day, so she could be coming down with a cold or it was just "one of those days".
Kayla was only scared of one house -she did great with houses that I thought would be a problem. But the one had a huge blow-up archway/tunnel that you had to walk through. When you did, it played Halloween music. Kayla walked up, saw it and said, I don't want to go to that house. So she waited at the sidewalk for Alysa.
We also had no allergy mishaps. Well, almost one. B4 heading out, we drove to their babysitter's to trick-or-treat. Then b4 we left our house to walk around the neighborhood, Kayla thought it would be a good idea to try a tootsie pop. Thankfully I stopped her just as she started to unwrap it. That was the only thing she tried to open. Although they washed their hands when they got home, I know Kayla didn't come in contact with any dairy b/c it only takes touching it for a second for her to react.
Alysa, although she wasn't in the best of moods loved it and was a trooper. First though she kept saying we were going to a Halloween party. Everyone got such a kick out of how she says "Happy Halloween" - it really is adorable. I'll put a video up of it later. That kid was very territorial too - her pumpkin was SO heavy, but she did not want to let go of it. She did finally relinquish it at the end of the night when using 2 hands just wasn't enough.
When we got home, I took their buckets and gave them their buckets of safe candy. Alysa had some chocolate and Kayla had to try skittles and boy did she love them. It's the first thing she asked for this morning. Now this is only the second time that she's had true candy (I don't count chocolate) and this is the first time she's really liked it. J and I had fun last night sorting through the unsafe candy and splitting it between us. How many pounds do you think I'll gain over the next couple weeks? :)
I have a ton of pictures, but unfortunately they're still on my camera - I was just too tired last night. Plus, my old one is still temperamental (thankfully though my new one is sitting in my office waiting for to be plugged in). So I will get them on the computer tonight and will post tonight or tomorrow.
I will leave you with 2 Kid'isms from yesterday...
Preschool'ism #1: My Mother was with the girls yesterday, so she transported Kayla to and from school. After school, they had this conversation.
Nanny - "What did you have for a snack today?"
Kayla - [looking puzzled] "um...acorns."
Nanny - "Acorns?"
Kayla - [looking more puzzled]"um...yes, I think...acorns."
Nanny - "Do you mean popcorn?"
Kayla - "Oh yes, I think...popcorn."
*It was her first time having popcorn - of course it is safe popcorn from
Divvies
.
Toddler'ism #2: Kayla refused to go through the big blow-up tunnel, even for candy, but Alysa went with Daddy while I stayed back and watched. Alysa went through with J, did her thing and took her candy. As soon as she had her candy, she turned around and said "Daddy, I have to get out of here!".
I hope everyone had a fun-filled Halloween!

posted at
8:59 AM
4 comments