Wednesday, February 25, 2009
Making Mommy proud
Yesterday when Jerome picked Kayla up from school she was walking out with one of her little class-mates. He heard this little girl say to her Mom, "Mommy, Kayla says Spongebob is yucky and that he is not nice."

That's my girl!


posted at
2:43 PM
1 comments


Thursday, February 19, 2009
Well said!

posted at
6:32 PM
0 comments


Wednesday, February 18, 2009
I hit the jackpot!
Last year, J and I got a Wawa Chase credit card. For those who don't know, Wawa is a huge chain of convenient stores in our area and they have been majorly expanding on their gas station piece of it. The Wawa by us had recently added gas pumps, so we decided to forgo our other brand-specific gas cards for the Wawa Visa. The card although, for our purposes would be solely for fuel, could be used for other purchases as well. The card came with rewards in the form of Wawa gift cards. For me this meant free gas, but J was seeing coffee in his future. Months and months went by (including months of gas bills exceeding $550) and no reward gift cards. The other day, I finally figured out that I have to go online to redeem our rewards. I feel like I won the lottery with $175 in Wawa gift cards coming our way. I'm looking forward to a big dent in our next month's fuel bill!

Sorry hon - this does not mean $175 worth of coffee!


posted at
5:58 PM
5 comments


Saturday, February 14, 2009
Does my heart good.
Yesterday at lunch, I asked Kayla if she liked her teacher. Her answer?

"Um, almost."


posted at
7:00 AM
2 comments


Friday, February 13, 2009
What a difference a week makes...
A week and a half ago (on Tuesday), when I went in to talk to Kayla's teacher, Kayla clung to my leg and was so upset that I was leaving. On Thursday of that week when I dropped off her previous worksheets that she had done, Kayla "hid" behind me from her teacher, but did not cling to me and was more "OK" when I left.

When the jelly fish arrived, Kayla was actually excited to give it to her teacher. She even let her teacher hug her after she gave it to her yesterday. Today when I dropped her off I went in to talk to her teacher (it was crazy hectic yesterday morning due to a power outage). It did my heart really good when Kayla ran into the classroom and gave her a hug. She was excited to be there and although yesterday she told me she still didn't like her, today showed me different.

I have seen that although she's still drawing pictures, she is doing work sheets again. I was also told Kayla is working with the other materials. She will now sit down and work with her teacher. She is going to be starting her in a workbook next week since she's now been able to see that Kayla is ready (Kayla certainly loves workbooks at home). I was also given some bragging rights. Her teacher told me Kayla is very good with her sounds, but will also give her big words. She told me the other day when asking Kayla what word starts with the letter 'M', instead of responding with monkey or mom or another word she said she would expect from a child, Kayla came out with "marathon". That's my girl.

I know some of her turn-around was simply time, but I also believe that having her fears/anxieties/whatever acknowledged and having her teacher and I work together has helped her come around, at the very least quicker. Or at least I hope I helped her. Regardless, I'm glad I followed my instincts, and am confident she will begin to love school like she did last year with her new teacher.


---

Separately, it amazed me yesterday what OMT can do for them. They had their appointments and aside from working on them with their reflux issues, he spent time working on their sinuses (we all have major colds going on). He gave special attention to Kayla's ear since she was diagnosed on Wednesday with an ear infection. He said what he was doing would help them drain and get better quicker. I was amazed to see them both wake up alert and in good spirits with their cough and congestion almost completely gone. He also said any time they are sick, if they're not due to see him, I can call up for an appointment. I think I may take him up on that – especially for the times when they're sick for 2 weeks straight. I'm quite jealous of their chipperness today.


posted at
9:27 AM
1 comments


Thursday, February 12, 2009
Some delayed fun photos
While at Epcot, we did some fun photo editing. I e-mailed them to me and was disappointed when they were not here when I got home. I was pleasantly surprised to see them show up in my inbox today. Better late than never I guess...
disclaimer:
The girls chose the accessories and the placement.
Alysa & me
Kayla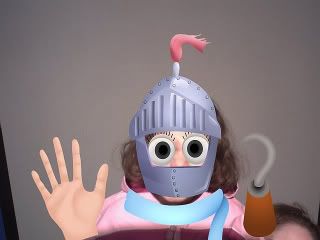 Alysa & me after Kayla had gone home sick that day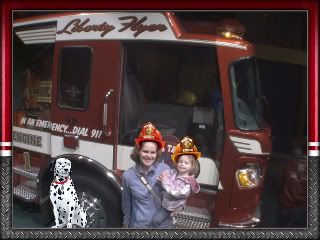 posted at
10:43 AM
0 comments


Tuesday, February 10, 2009
School Adjustments
Kayla has been having a tough year at preschool. Last year, she adored school. We both loved her teacher and the TA (teacher's assistant). They were great with Kayla and with the food allergy. I couldn't have asked for any more diligence and Kayla wanted to go to school 7 days a week and was sad every weekend when she stayed home. What more could a Mom want?

If you remember, her teacher from last year had a baby over the summer which meant a new teacher for Kayla in September (typically in Montessori, they remain with the same teacher all 3 year – which is one of the many pluses). Neither J nor I were as thrilled with her. I thought she was a bit too "public school" (that is where her background was). Kayla, although always said she liked her, was not as enthusiastic about school. She would daily say she did not want to go. But, through it all, she was progressing – she's writing her name and other letters. Doing really well on her sounds at school (as well as at home). Then, if you remember, in December we got word that her new teacher was leaving and a new one would be taking over Jan 5th. I had many concerns, the most important being a complete lack of Montessori experience. I was not happy, but tried to reserve judgment. I did feel better after I met her and actually liked her more than her teacher the first half of this year. Her background, although, not in Montessori, is one of similar philosophies and she seemed dedicated to Montessori. So I decided to continue to reserve judgment.

I believe this new change was just too much for Kayla. Since day one of learning a new teacher would be taking over, she has complained of not liking her. Kayla is my complete creature of habit. It's even a struggle on warm days and when spring hits to transition her from a coat to a light jacket or no coat/hat/gloves, etc and vice versa. I knew she didn't like the change, but I wanted to give it time. Especially since the teacher took over on January 5th, Kayla has only been in school for 1 full week due to Disney and being sick over and over and over…(you get the picture). But, let's just say, without going into all the details, that last week, I had to take action and meet with her teacher. Her teacher was great and put some of my concerns about her to rest. She was also trying to give Kayla another week, before calling me. Apparently things were worse than I thought.

She told me Kayla will barely go near her. She shies away from her and will even hold onto the TA (who thankfully has stayed constant). Her teacher can not get Kayla to do any work with her and Kayla won't even do any of the work at school at this point. She will only draw on the easel (which is evident by the million and one drawings I get home each day). Kayla has been very clingy with the TA. I then told her that Kayla, from day one has said she did not like her, but that it started before she even met her. She was very sincere about wanting to help work with me to get Kayla through this transition. Her teacher has wanted to work with Kayla to see where she is at with her numbers, letters, etc but has been unable to. She has been reluctant to push Kayla too far because she knows it will only work to further distance Kayla from her.

Later that week I brought in some of the things Kayla did last year and the work Kayla has done this year so she could get an idea as to where Kayla really is.

Thankfully we have noticed a slight improvement in Kayla in the past week. She still does not want to go to school, but…she has been bringing home some work sheets. There was a day where the TA was absent, so Kayla's only choice was the teacher. They do have a sub, but apparently the teacher was the better option.

She and I are working to find some common ground – like Kayla and her teacher's favorite animal is a jelly fish. Kayla has a beanie baby jelly fish and I found another on eBay, which I purchased and Kayla is actually excited to give it to her. I certainly don't plan on showering her teacher with gifts, but I am trying this to see if it will help Kayla to bond with her. I am concerned about her back-peddling and do not want her to stop progressing at school. I do know I need to give the new teacher a really fair shot before considering changing class rooms (which has been suggested to me by others not in the school). If it's really the teacher and she won't progress, I would have to consider that. But if it is the change, moving her would only make thing worse and it would take Kayla way from the only constant in all of this – the TA. Not to mention, it would take me away from the TA who is the one I trust the most with Kayla's allergy, as she is the one who handles the snacks.

It's definitely not easy watching your child struggle. I just hope I can give her the tools and work with her to feel safe enough to work through this and begin to enjoy and look forward to school again. Especially since her preschool is going to be the safest school setting she'll ever be in. I have a feeling it will only get harder when she hits public school. I want us both to be able to cherish the next year and half before the real battles begin…


posted at
7:32 PM
2 comments


Sunday, February 08, 2009
Alysa's new bed in the making...
I had a busy weekend which started with dinner out with friends last night to celebrate his birthday. My Mom took the girls for an overnight, so I got to take advantage of that and went out with Jen & Jeff this afternoon and finally took them to the best pizza place ever. I so enjoyed the pizza and am hoping my cheese cravings (which are out of control lately) will subside for a little while.
A couple weeks ago, J and I got a great deal on 2 twin mattresses for Alysa's room. We've had a hand-me-down bed in storage at my Parents' house for years. I was told it was a trundle. It's actually a sleigh bed with a pull out bed underneath. It doesn't lift up like you're typical trundle, but once it's done it will be beautiful. We're hoping the weather cooperates so J can get it done in the next couple weeks - it needs some major sanding and repainting.

posted at
8:32 PM
1 comments


Friday, February 06, 2009
Stomach bugs, fevers, pink eye...oh my!
The fun never ends around here...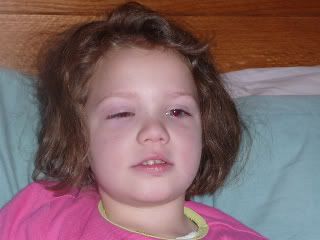 (yes her right eye is that swollen)
Luckily the eye drops work really quick and she's already on the mend. But I'm exhausted from sleeping with her, especially since she was freaking out through the night over her eyes being stuck shut.
It is funny though, this morning she was fighting me on cleaning her eyes and I finally told her that as soon as I cleaned them and she was able to open them, I'd put on Little Einsteins. Those eyes miraculously opened instantly! Go figure.

posted at
8:40 PM
3 comments


Wednesday, February 04, 2009
Disney Days 4, 5 & 6...the last
Thursday, we headed over to Hollywood Studios. It didn't last long for us because after about an hour, Kayla was melting down. She wanted to go on rides and there are just not a lot of things there for younger kids. We did see a Playhouse Disney show, but it was all downhill after that. After we realized Kayla's meltdown was not going to end, we decided to leave HS and head back to Magic Kingdom. So J, the kids and I went to MK and as soon as we were in the car on the way there, they were different children. They were so happy to be back in "Kidville". So we spent the rest of the day at MK just doing rides. It was during this trip that we figured out you can ride in the front of the monorail with the conductor. You just need to go to the front and tell the attendant you want to ride up front. If another family is waiting, you'll have to wait, but the monorails come every 2 minutes so the wait is never that long. This is when the monorail became Alysa's favorite ride and how she decided she wants to drive one when she grows up.
That night, we had our second meal at Disney. We went to the Hoop De Doo Review. It's a country and western type dance show while you eat. I called the day before about the menu. The standard menu was corn bread, fried chicken, bbq ribs, mashed potatoes, baked beans and strawberry shortcake for dessert. Our menu consisted of tapioca bread rolls, fried chicken, bbq ribs, French fries for the girls, rice for J and I, baked beans and Tofutti vanilla and chocolate ice cream for dessert, as well as Silk Soy Milk for the girls to drink. Aside from the altered menu and general accommodations for Kayla's safety, the Chef went so far beyond my expectation. When we arrived and were given our table, before we let the kids sit, I proceeded to clean everything. I cleaned the chairs, the booster seats, etc. Then I cleaned the salt and pepper shakers and anything else on the table that could have been contaminated. As I was doing this I saw a man standing by the table watching me. Once I was done he came up to me to go over the menu (it was the Chef). He also told me, for my information, that he had already, before we arrived cleaned all those same items on the table. He said it is Disney policy to clean off anything on the table when someone with an allergy will be there. It really surprised me and showed again how diligent they are. Alysa was a bit "scared" of the show, but she was a trooper. Kayla, not only loved having safe food, but was so excited and enthusiastic about the show. She loved the entire thing and was dancing and clapping and really getting into it. And she was really beside herself with excitement over getting ice cream at a restaurant. It was a special night for her and all of us.
Friday was originally going to be our Sea World day. But after the fiasco at Hollywood Studios, we opted to bypass Sea World this year. My
Sis
was concerned about sitting for water shows and getting sprayed when it was supposed to be in the low 50's and very windy. My biggest concern was food. SW has a policy of not allowing outside food in the park. They do make exceptions for those with special dietary needs, but they expect you to only bring in a lunchbox sized cooler. I was concerned they'd give us a hard time over the
slightly
larger coolers and the fact that we'd be bringing food for 14 since we were all eating safe lunches. I was glad to not have to deal with the headache. Instead, we spent the day at the Orlando Science Center. It was a ton of fun for the kids and us adults. A lot of hands on exhibits for the kids and coincidentally there was a huge gaming event going on, which meant X-Box, Wii, etc were all set up. It was a good day and a bit more relaxing and it allowed a bit more freedom for the kids and a day of no lines.
That evening, my parents so graciously babysat for all 7 kids while J and went out with my
Sis
, her hubby Jason and Jason's brother Erik. We ate a fabulous dinner at the
HOUSE OF BLUES
, did a little shopping so Erik could pick something up for his wife and then had dessert at
WOLF GANG PUCK'S
and then headed to
DISNEY QUEST
for some virtual reality fun. It was a great night and wish we had the option to do those nights more often.
Saturday was the day for Animal Kingdom, but on the way there, Kayla kept complaining that she didn't want to go and wanted to go back to the Magic Kingdom. I knew there was more for her at AK, then HS, but I did not want a repeat of Thursday. So…we had my
Dad
drop J and I and the girls off at MK and the rest of them headed over to AK for the day. It was a wonderful day. The girls were thrilled to be back at the MK and we had more chances to ride with the driver on the monorail. Being in Disney was so much fun, especially having all of us together, but it was nice to have a day with just the 4 of us. We were able to hit a few rides we didn't get to earlier as well as many repeats.
It was an awesome trip and so much fun. I really hope we can get back in 3-4 years'ish. The older they get the more we will all get out of Disney! It is not only great to have a fun place to go to, but it's so refreshing and wonderful to have somewhere to go on vacation that takes food allergies seriously and makes it as safe as humanly possible, not only for your child to have fun, but to also eat (not only by cooking safe food but also by allowing you to bring in food – no questions asked). Each day when they checked our bags, I let them know of the epi's. More than once, I was told by the "Cast Member" to make sure I take it on every ride b/c you "never know when a reaction can happen" (of course J and I each had a set on us at all times, plus we had a set in the backpack). They have hit a gold mind with their policies and there is a reason most food allergy families I know will ONLY go to Disney. Keep up the good work Disney. Hopefully more destinations will take your lead and if not, you will continue to reap the benefits – as you should!
Day 4 - Hollywood Studios, Magic Kingdom & Hoop De Doo Review
Day 5 - Orlando Science Center
Day 6 - Magic Kingdom

posted at
8:32 PM
2 comments