Friday, February 06, 2009
Stomach bugs, fevers, pink eye...oh my!
The fun never ends around here...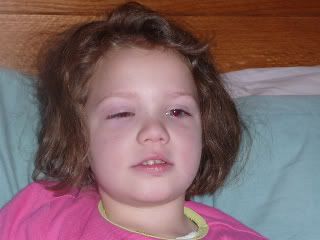 (yes her right eye is that swollen)
Luckily the eye drops work really quick and she's already on the mend. But I'm exhausted from sleeping with her, especially since she was freaking out through the night over her eyes being stuck shut.
It is funny though, this morning she was fighting me on cleaning her eyes and I finally told her that as soon as I cleaned them and she was able to open them, I'd put on Little Einsteins. Those eyes miraculously opened instantly! Go figure.

posted at
8:40 PM
3 comments