Friday, June 15, 2007
Saturday Scraps #2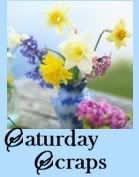 I made this page with a kit intended for boys. But I loved the elements and colors in the kit and hey, my girls love their cars and trucks. I'm really happy with how it turned out.
I made this page with the Boys Club kit from
Lindsay Jane Designs
.
*Girls will be Boys*
Hop on over to
Christine's
to see her page and others who have joined.

posted at
7:31 PM
5 comments