Monday, June 04, 2007
A New Week
Well, the weekend's over and it's on with another week. I made it to my last cake decorating class Friday night. I've been able to pick up everything they taught easily except that darn Wilton Rose. It just doesn't like me. So don't expect to see any roses on Kayla's Pablo cake this August. :) But it was fun and I'm hoping to take the 2nd course in July.
Alysa had her 18 months appointment today and all was well. She finally hit 20 pounds, yes, she's only 20lb, 3oz at 18 months. She's a peanut. :) Hey - she is now officially able to be forward facing in the car. Yay! She's healthy and ahead of schedule developmentally, so what more could I ask for? THe funny part is that their Ped tells me that a friend of hers is also a Pediatrician and that she is in Alysa's gymnastics class with us. She knows this because she had told her friend the story of Alysa's
Bandaid Adventure
(without names of course). And then her friend overheard me telling this story to another Mom in the class one day. I thought is was pretty comical, but it also shows you that you never know who could be listening. It's a good thing I said only good things about their Ped. :) So now, I have to work on the update to their website.
Yesterday, we went to the Christening for my gf's daughter. It was nice. The girls had a blast, as it was at a hall, so there was tons of room to run around and be crazy with the numerous cousins that were there. Kayla loves being around kids and is not shy with them at all. Actually she wasn't shy with anyone that day. She was giving tons of hugs and kiss to my gf, her husband and her kids and their cousins. It was very sweet. Of course it was stressful, but we got through w/o any reactions or mishaps. The biggest downfall yesterday was we had very little opportunity to socialize b/c we have to follow by Kayla's side at all times. But everyone understands and they all know Kayla's situation, so no one even tried to touch her. It's always nice to NOT have to tell someone not to touch her. My gf was also sweet enough to put at us at our own table. This way, we didn't have to worry about other people's food getting near Kayla once the food was put out. J and I took turns eating the least risky food available while the girls had their safe cupcakes. That's all Kayla cared about. We left after we ate since all the plates posed a much bigger risk. My gf also made a special point to thank me for coming knowing how hard it is on us and how stressful it is. She said she gives me so much credit for taking her places. This is exactly the reason I DO go. A little understanding goes such a long way for us. So I'm glad we went and the girls loved being there. And of course they looked absolutely beautiful in their dresses.
Waiting to leave...
*excuse the red eye, I have to get a better red-eye reducing program*
Alysa...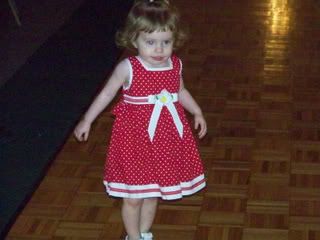 Kayla...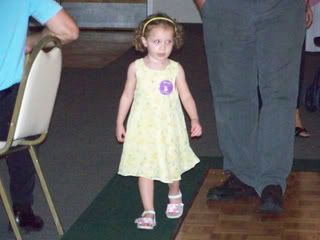 The drive home...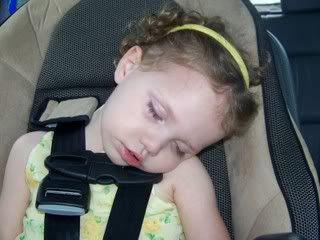 This week I hope to get Kayla's party invitation started - I plan on designing them myself since I am learning digi scrapping. I also have to buckle down and organize my thoughts and questions for preschool in September (boohoo). This weekend, my Mom and I plan on taking the girls to a local farm to do some strawberry and blueberry picking. I'm looking forward to it. Have a great night - my eyes can't take much more of this computer screen.

posted at
8:12 PM
2 comments