Tuesday, May 22, 2007
Loving the Frustration
Kayla is in the midst of a super duper frustrating phase, yet I can't seem to stop laughing at her. She has no interest in napping and she will come in and out of her room with the excuse of having to go potty. I have had to resort to putting a child lock on the inside of her door for naps. It's the only way to keep her in so I can get some down time and time to do some chores, plus I'm worried she'll interrupt Alysa's nap and if that happens, I would have no choice but to run from the house screaming to escape the excessively cranky 18 month old. :)
Kayla is perfectly fine "locked" in her room. Most day she doesn't even want her book and song. She'll sit on her chair pick out a book, give me a kiss and watch me leave the room. Some days she'll actually fall asleep but most days she'll just pay for 2 hours. I actually prefer for her not to nap - sure she'll be more cranky by the time bedtime comes, but if she naps, she's up until 9'ish which means she's in and out of her room. I am not ready to lock her in at night b/c I want her to be able to get up at night if she needs us. Since we're sleeping - we aren't as responsive as during the day. Of course, after being in a bed for 1 month, she's just starting to get out of bed on her own in the morning. The other night she woke up at 4am. I heard her door open and I went to find her (we do put a gate up at the top of the stairs) and she comes in our room all upset b/c her "foot hurt" (this is typical lately - growing pains?). In the morning she thinks it's hysterical to open her own door and come find us or just sit in her room.
She's defiant and looking for every excuse to not go to sleep. But I can't help but smile. Sure I get frustrated, but in all honesty, I am loving every second of this. She's almost 3 (I can't believe it) and she has such a mind of her own and she loves being a big girl. Another new thing with her is "privacy". When she's going potty, she'll say "Can you leave me alone Mommy?". She likes to be in the bathroom by herself with the door closed. I love it!!! And how can you not love what the say? Yesterday she was showing me her booboo (from falling over a week ago) on her knee. She said "Mommy, that's my boo boo. Kayla is broken."
Other than loving Kayla's newest frustrating antics, Alysa is sick. She came down with a fever this morning. So I'm sure it's some sort of viral thing. I am fighting off some kind of wierd virus or I have Lymes Disease. I have to go tomorrow to get bloodwork. I have been having joint pain for almost 2 weeks now. And it moves. One day it's my wrists, the next it's my knees and so on and so forth. Oh and a constant headache. Anti-inflammatories are my friend. Wish me luck - I don't want Lymes Disease, but I'd rather that than some mystery thing that will drag on w/o a diagnosis. So all this means no gymnastics tomorrow. At least Alysa was still all for playing outside tonight. Who says a 102 fever has to keep you down? The way I see it the fresh air has to do her some good.
Before I got and plop down somewhere to try and get a little rest (oh yeah, after I fold some laundry), I'll leave you with my 2 newest digital creations. The first is the Mother's Day card I made for my Mom and MIL. The 2nd is a page I made a couple nights ago. I'm having fun learning Photoshop Elements. My biggest obstacles are time (not enough of it) and I have to come up with ideas/themes for pages. I've basically been winging it. I think it's working. Hopefully you do too.
Mother's Day card for my Mom and MIL: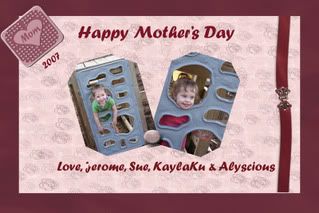 My Mother's Day page: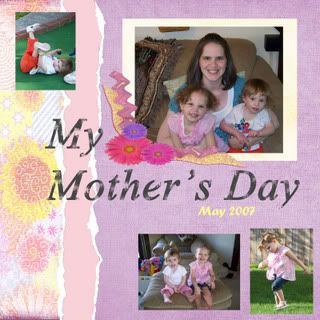 posted at
9:13 PM
5 comments