Sunday, May 20, 2007
Marriage Monday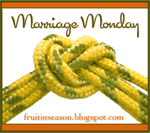 This week's
Marriage Monday
topic is
How has children affected your marriage
. Christine has posed these questions.





If you have children, how has that changed you, your husband and the way you relate in your marriage?






If you don't have children, how have you approached the topic in conversations with your husband and what decisions have you made for the future? How do you anticipate children will change your marriage if you plan to have them?






If you have struggled with infertility, how has that affected your marriage?


There was never any true discussion as to whether we'd have kids or not. Even before we were married, we both knew we wanted kids. J has always said he wanted no more than 2, where I was always like, no less than 2, no more than 3 kind of thing. Before we were married, we agreed that we would first focus on buying a house. We did not want to raise a child in the 2 bedroom townhouse we were renting. So we immediately set out to buy a house. That took us some time since the market was on its way to insane and we had quite a few bidding wars, had a contract that was lost, moved in with my parents while we closed on our current house since we had given up our townhouse for the first house we through we were buying. But that's another story. Since we had a contract, we actually started trying before the house was closed on.

We did battle infertility and that really had a profound impact on our marriage. At first J was very much a believer that it was all in my head. I tend to be a worrier/stresser, so he thought I was over-reacting. But once the doctor confirmed that there was actually a problem, he never argued about treatment. Infertility really put a strain on our marriage - between the money we spent, the time and the doctor ordered "baby dancing" as it's called in the infertility world. I've now learned, that even for a man, every other day to every day is TOO much. We fought over infertility, money or other random things. We were both under a lot of strain and no matter how much you say he's going through it too he never really understood what I was going through either on an emotional level or on the physical level (doctor's visits, surgeries, procedures, medications, shots, etc). Men and women view family and children different. For him, if we didn't have child, things would have been ok eventually - I could never see things that way. But in the end we made it through and we came out the other side with 2 beautiful daughters. And we came out stronger. I learned to let the smaller things go and he learned what it was I was fighting so hard for (our girls). There are still times he will thank me for never giving up and for working so hard to give him is little girls.

Having children also changed our marriage, although I can't say it changed any more drastically. So many changes took place during infertility that having the baby seemed less monumental on our marriage in some ways. We both mellowed to a degree and I did see how he changed in how he viewed things. I did this too - how I saw advertisements (commercials are SO not child-friendly), radio stations, etc. He now views these things the same way I do, but he took longer to get there. I went from being the "Bread-winner" to him being the "bread-winner" when I went to work part time. He used to say that daycare was no big deal, but he now does not want them in daycare and is happy they are home with us. We work opposite schedules which leaves little family time, so that has really changed our dynamic - but we both get to have that understanding of what it is like to care for your children all day along. It gives us a better understanding of each other that I don't think other couples get when they both work full time or one stays home and the other works. We can both commiserate on a long day at work and we can both empathize and understand the frustrations of dealing with an almost 3 year old who doesn't want to nap or even stay in her room for naps anymore.

Obviously we don't have the freedom that we used to, but we are both ok with that. Neither of us would trade our girls. I know J desires more free time - this does get compounded since we are home together so infrequently, which leaves little time for housework/yardwork and downtime for either of us. But in the end, we're doing what's best for our family. And I know that children has changed each of us individually and as a couple for the better. It also means that we have to schedule out time for ourselves individually and most importantly for time together. We make sure that we have at least one night a week. That is a given but we always stive for more.

Although we planned both our children and they are both everything we wanted, I don't think J had a true idea what it would mean. He had never been around babies much, so it was a huge change for him. But I'm happy to say he is a wonderful father. He helped me with midnight feedings and crying fits, he changed diapers and he shows them that Daddy can take good care of them all day long (when I'm at work) just like Mommy. He has his goofy manly ways of playing with them and they screech with delight and run to the window when they hear his car come up the driveway. I would never want to go back to it being just us (at least not until they're out of college).

We fit as a family and that is just as it should be.

posted at
11:35 AM
7 comments