Friday, June 01, 2007
Crazy Week
I apologize for being MIA this past week. It's been a long rough week. Kayla actually cooperated with the perfect "Kodak Moment" Tuesday for a WW, but it will have to wait for next week. I didn't have the time or energy to visit everyone else's pictures.
Very late Sunday night/very early Monday morning my Step-Grandfather passed away. He was 80 and his heart just gave out. I was then going to head down to North Carolina on Thursday with the Girls and my parents to attend the funeral and be there for my GM.
I was actually almost all ready – clothes were packed, food was out and almost completely organized by Wednesday evening. I ran a zillion errands and spent a ton of money buying toys for the car and all the extra food items that the girls would need while we were gone. But here I am at home.
I won't get into the gory details, but there was quite a bit of family drama surrounding Kayla's allergy. So in the end, I was unable to attend because it would have been too dangerous for her. I just can't have her stay somewhere 24/7 with me not having any control over what foods are served and when.
I'm having a hard time with the fact that I am unable to be there for my GM along with some other issues that have gone along with this. But I am trying to make the most of this weekend and on the bright side I can attend my last cake decorating class and I am now again able to attend the Christening of a close friend's daughter. And she has even been sweet enough to sit us at a table furthest away from the table of food. I have also decided to take the girls to North Carolina over July 4th weekend with my parents.
I will try to be better as I muddle through this weekend. I need to catch up on my own blog and on reading everyone else's. I also have a meme to get to that
Janeen
tagged me with earlier in the week.
On a lighter note, before I go, I will share a cute Kayla moment. On Monday, she was
hindering
helping me fold the laundry. She was taking all her little wash cloths and concentrating to so intently on
crumpling them in a ball
folding them so neatly. She ever-so carefully put the crumpled wash cloths on the couch along with the other towels. And I knew that she took a lot of pride in what she had done because when Alysa walked over to the couch and picked up one of the wash cloths, Kayla yelled out – "No, no, Alysa! Leave those alone!". It was so precious. I loved seeing her so proud of herself and what she had done. And it's a good thing for me that I find their washcloths such a pain to fold that I just throw them in the closet unfolded, so I never had to
correct
mess up her handiwork.
I must also share that I never think to put Kayla in dresses, that is unless we are going to a party. Heck, I don't even usually buy her dresses. I usually make sure she has 1 party dress per season. I don't like wearing dresses or skirts, so that means my girls don't either, right? My
Sister
was nice enough to give me hand-me down dresses from Maddy for this summer. Well, the other I took out one of the dresses and showed it to Kayla and gave her a choice of wearing the dress (for no reason) or a shorts outfit. She immediately went for the dress with "her friends" on it (it has pictures of little girls on it). She was so excited to be "wearing her friends". And then when she was all dressed, she ran around her room saying "Look at me Mommy. I'm a Princess!". I guess she taught me yet another lesson!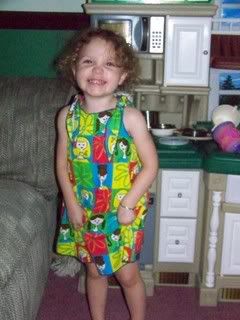 posted at
10:44 AM
6 comments