Saturday, June 02, 2007
Saturday Scraps #1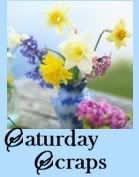 Now that I'm having so much fun with my newly found hobby of digi scrapping, I thought I'd join
Saturday Scraps
hosted by
Christine
at Are We There Yet.
I made this page with the Just Pink mini kit from
Lindsay Jane Designs
.
*Beautiful Girl Alysa*
Hopefully I'll at least have 1 page made each week so I can post here. I haven't done anything this week with all the craziness. But I'm hoping to get some time in the next few days.

posted at
10:10 AM
4 comments