Thursday, June 14, 2007
On the Mend
I am happy to report that we have had 2 peaceful nights in a row. Kayla slept soundly through Tuesday night and last night. I was actually surprised b/c it can take time for the medication to build up in your system. I'm assuming that since she was still getting half her dose through last Friday that it had not all left her system so it didn't take much to re-suppress her stomach pumps. But it also goes to show that her reflux disease is pretty bad if she has that much pain while she's still taking a half of her needed dose.
It was so sad b/c Tuesday I told her I would give her the tummy medicine so she could sleep in her bed. She started to cry and said she didn't want to sleep in her bed; she wanted to sleep in her chair. My heart broke. That night, she did indeed fall asleep in her chair, NOT her bed.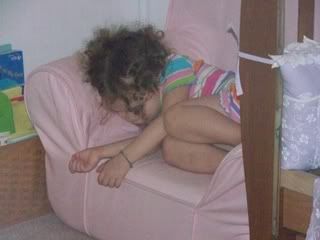 We did go in, put the wedges that we have for reflux in her bed and I then moved her to her bed. She was then medicated and elevated and slept soundly all night. We will keep her wedges in her bed for the remainder of the week to give her medication the chance to fully build up. Her eating has improved but it's not yet back to normal. But that will come.
Off topic – I have one week left until my house goes into chaos for about 3 weeks. The last week of June, J and I are on vacation. We will be heading up to our Timeshare in Callicoon, New York State. We plan on staying there as long as the girls will tolerate. We very possibly will head home early to do some daytrips. It's a great resort, but I don't think there is enough to entertain them for a full 8 days. And we have tons to do around us. The Zoo, Storybook Land (an amusement park for little ones), the Aquarium, the Insectarium (yes, insects – yuck), local farms, etc. The week after that is July 4th week – I am actually off for July 4th AND 5th, which happens to be J's normal days off so we get an extra 2 days together. Then on the 6th, I head out to North Carolina with my parents to visit my gm with the girls. The weekend after that, I am heading out solo to visit my
Sister
so I can FINALLY meet my newest nephew. It will be the first time I have spent more than a night away from the girls (aside from when I was in the hospital after having Alysa). But even then I saw Kayla every day. I am looking forward to spending the time with my Sis and her family. It will be so weird to be able to eat dairy and not wash my hands immediately and to not stress over every crumb that falls to the floor. It will be a nice break, although I'm sure I'll still be reading labels out of habit. :)
After my Ohio trip things should calm down for a few weeks. Hopefully that will give me the time to fully plan Kayla's birthday party which is set for August 11th. Amazing how busy summer can be. And of course comes the onslaught of birthday parties as Kayla has 3 friends with birthdays all around the same time in July. But it's already a fun summer with the girls.
Yesterday, at Wal-Mart, I got the girls a couple new pool toys. You know, the cheap floaty toys that will last one season (hopefully). Kayla was SO excited this morning to see her inflatable Jet Ski. She was begging J to go in the pool as I left the house to head to work. :)
Last night I had a nice night out with my best friend. We went to the mall and had dinner. She did a BAD thing and "dragged" me into The Children's Place (she's having a girl in October). That store can be so evil. But…although I splurged a bit (well, only $30 worth), I shopped "good". I bought only 3 outfits, all of which were on sale AND I got sizes for NEXT summer. So there you go. No guilt!
=====================================================================
I'm also adding to this post a meme that I was tagged for a couple weeks ago by
Janeen
. Sorry Janeen for taking so long…
What were you doing 10 years ago?
June 1997: I have just finished my Junior year of college and my first year at Rider University. I was moving into an apartment with my roommate from Rider/my best friend. J and I were not officially dating but were slowly moving towards that. And my gm had recently been dx'd with cancer.
What were you doing 1 year ago?
June 2006: Kayla was in Feeding Therapy, she had recently had an Upper Endoscopy done to look at her esophagus. Alysa was 6 months old. We had a nice family vacation at home that month with day trips.
Five snacks you enjoy:
1. Cheese & Crackers
2. Cheese Doodles
3. Chips & Dip
4. Nachos
5. Nuts
(now I'm hungry)
Five songs that you know all the lyrics:
1. Dora's Theme Song
2. Twinkle Twinkle Little Star
3. Hush Little Baby
4. Itsy Bitsy Spider
5. Skinnamarinkydinkydoo (sp?)
(yes, they are all kid's songs – I hardly ever listen to adult music anymore so I don't know what ones I still would know…)
Five things you would do if you were a millionaire:
1. Be a SAHM
2. Have NO debt (except a mortgage if we're only talking 1 million)
3. College funds for the girls
4. A larger retirement fund for me and J
If we had millionS:
5. A bigger house on 3 acres
Five bad habits:
1. Not eating properly
2. Twirling my hair when I'm bored
3. Letting my upstairs bathroom sink go too long between cleanings
4. Lagging behind on e-mail replies
5. Not filing papers right away and therefore cluttering my desk up
Five things you like doing: (Not in any order of importance)
1. Playing with my kids
2. Digital Scrap Booking
3. Reading
4. Blogging
5. Hanging out with my Hubby
(I stuck with Janeen's 5)
Five things you would never wear again:
1. Crop Tops
2. Bikini
3. Big Bangs
4. Leggings (out of the house)
5. Pants with the cuffs folded and rolled up ;)
Five favorite toys:
1. My computer
2. My camera
3. Our swing set
4. Our pool – keeps us all occupied
5. My digital voice recorder – I love capturing what they say
Now I tag:
I'm still behind, so I'll tag anyone who wants to join in. If you do, leave me a comment so I can come check yours out.

posted at
2:20 PM
3 comments