Sunday, June 17, 2007
Mommy Talk #10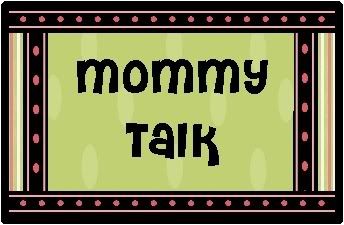 This Week's Question is:
How were your first few weeks at home? Sleeping, eating habits? Any baby blues/post-partum issues?
With Kayla I never had any post partum issues. Then again I was so overwhelmed with her her severe Acid Reflux Disease and my inability to breast feed (you can read more about that from last week
here
that I didn't have time for my issues. :) I spent many nights awake with her screaming for hours and I just cried with her. There were times I called J at work so distraught b/c I couldn't help her. I know part of it was from hormone changes, but for the most part it was just from a helplessness I felt from my inability to ease her pain. My Mom and I joked one night at 2am that at least if someone found her irresistably adorable and stole her, they'd bring her right back after she started screaming. ;) Hey - when it's 2am and when you're sleep-deprived from a screaming infant, anything sounds funny. I do miss the times when she wasn't crying endlessly and she would just sleep on me. The one thing abouther disease is that when she conked out, she was out - she'd sleep for 5+ hours. Once I gave up on my pathetic attempt to b/f and pump, my eating habits were poor. There were many days I would get through the day and realize I hadn't eaten all day. Sleep? Only after Kayla would end a crying jag and pass out from exhaustion. Sometimes this would be in her car seat after a drive around the block with Daddy. I also remember the days in her first couple weeks b4 her reflux was too bad that she'd eat at 5 or 6am and her and I would go back to sleep in my bed together. Heaven!
With Alysa, it was somewhat better. She had reflux disease as well, but not as severe. It hindered her formula intake and made her fussy during feedings, but after she was done eating (even a pathetic amount), she was fine for the most part. She was fussiest from about 8-9pm to 1am'ish. J was great - he took the first shift and let me sleep for a few hours. Then around 12-1am, he would come up and I took the rest of the night. She was very gassy on top of her reflux, so she pretty much slept on me for the first 8 weeks of her life. This way she slept and I got some sleep. More than if she slept in her bassinet. After that she moved to her crib. I was in much less of a fog with Alysa due to being an "experience Mom". But I did have some post-partum. It showed itself with some anxiety over being alone with the 2 of them. Nothing severe, but I was VERY emotional and nervous over juggling the 2 of them. Luckily that didn't last too long. Plus this time around I had a 16 month old to help adjust. She had a rough time. She loved her sister and never took anything out on her, but she went from my perfect sleeper to a child who cried when she went down, cried when she woke up and cried in between. She was ok as long as she could be with me too. She sat with me while I fed her and played with her. But if I had to change Alysa, Kayla would cling to my legs crying for me. It took her a good 2 months to fully adjust and get back to her normal sleep pattern.
Hop on over to
Mommy Talk
to see other responses.

posted at
7:45 PM
5 comments