Wednesday, June 20, 2007
Father's Day
So every day I keep saying I'm going to post today, I'm going to post today. And here it is Wednesday and no post. Not even a Wordless Wednesday. Well, that's more b/c I just won't have the time to visit since I am off of work all next week. Of course, the girls have given me plenty of "Kodak Moments" for the meme.
We had a wonderful Father's Day. J had a morning of golfing with my Dad while my Mom and I took the girls to the Aquarium. Kayla loved every minute of it.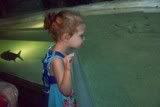 She would have stayed all day. Alysa on the other hand - while she loved the fish,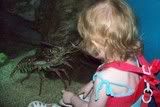 she was not happy with the being held back part. I didn't even bring the stroller b/c she's miserable in it. And if she's miserable, I'm miserable. So we put her Elmo leash on her and let her walk (Kayla then had to have her leash on too - go figure). Alysa thought all the fake rocks and ledges by the tanks were pieces of a huge jungle gym. She wanted to climb on EVERYTHING.
She was pretty ticked that I would not let her. Then she wasn't thrilled with the limitations of the leash. Walking between exhibits, she was actually ok and would hold my hand. But she wouldn't stay still very long and wanted to run all over and climb on everything. Add to that - she was up b4 6am which is WAY too early for her, so she was exhausted. So it was rough with her. I carried her a lot, but that didn't satisfy her either. At least she did like looking at the fish in between temper tantrums.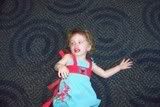 Kayla was thrilled with every fish she saw. And it made her day to pet the star fish - unfortunately the pet a shark exhibit was closed.



During Alysa's nap, Kayla helped my Mom make a fruit salad while I made pasta salad and deviled eggs.
Ready, Set...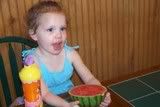 *Please note the bite out of the outside of the watermelon*

Go...



Yum!



J's parents came down later that day and we had steak cooked on the grill along with the salads. For dessert I made a delicious apple coffee cake and home made rice pudding. Before dinner, I of course had out snacks - chips, pretzels, dip and the deviled eggs. Kayla was glued to that table and kept saying "I LOVE snacks". Too bad she had a tummy ache at midnight that night. Ho Hum... You can tell she hardly ever gets that kind of food. I think she over did it a tiny bit. ;) I did manage to get her to eat a few bites of steak for dinner and then of course the fruit salad.

Aside from grilling the steaks (you don't want me doing that), J was told to relax. But he doesn't relax very well and was outside pulling weeds for a while. Funny to see me "yelling" at him to stop yelling and sit and do nothing. ;)

The Girls with their Daddy in the T-shirt they made him.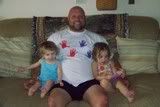 All of us.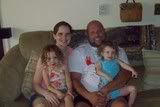 So it was a really nice day. Monday, my friend came over with her 3 girls so all 5 girls had fun playing together (well, 4 - 1 is 4 months). It was nice to have some Mommy time even if it was in the middle of a room scattered with every toy we have in the house. The rest of the week so far has been low-key. I have been such a slacker - I really need to start organizing and packing for our vacation. Sunday we will be leaving for our Timeshare in Callicoon New York. We are most likely not staying the entire week. Sleeping arrangements may be a bit difficult with the 2 of them and we have some places we'd like to check out by us too. So the end of the week will most likely be day trips in our area. I'm so looking forward to a week with both J and I home.

Now if someone would just give me a kick in the pants to get me motivated!!!

posted at
1:45 PM
5 comments