Saturday, June 30, 2007
Saturday Scraps #4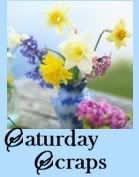 Yesterday we took the girls to a children's amusement park by Atlantic City called Storybook Land. Last year, Alysa was too young for any of the rides and she was miserable. This year, they both had a blast. They both went on almost every ride multiple times.
This time I used Christine's suggested kit (J was very nice to me this morning and gave me some scrapping time) - the BABA Kit by
Chickypow Designs
. I also added the Journaling Tag which was made by
Angela
at My Digital Scrapbooking Blog and the Cardboard Tag came from one of my favorite designers,
Lindsay Jane Designs
.
Hop on over to
Christine's
to see her page and others who have joined.

posted at
10:11 AM
2 comments