Monday, April 09, 2007
Easter Weekend
Well, I hope everyone had a nice weekend and a good Easter. Our weekend was super busy. My Mom took the girls to her house on Friday and Friday night I had a fun night out with some of my coworkers. Saturday morning, J and I had a delicious breakfast at Bob Evans. We never get to go out to breakfast. :)
Then we went to the Elmo show (Elmo's Coloring Book) Saturday afternoon. It was a great show - very well done. Alysa lasted through most of it, but was very tired and she doesn't sit very well for too long. So J took her out to the lobby the last 15 minutes. She also got scared of all the lights and sounds when it first started. Kayla was very into it and her only "complaint" was that Grover wasn't in it. :) I even had some great conversations with 2 of the ushers. We made sure we got there early, so I could have time to clean off the seats. Now, J does think I go a bit overboard at times (I don't, but that's not the point). ;) But...with this he realized Saturday that cleaning off every seat we get, plus the 2 bordering our seats is imperative, as one of the seats had an evil little goldfish left for us by the previous people. Anyway, during the course of my cleaning, I saw 2 of the ushers watching me. So I ended up in pretty lengthy conversations with them separately about her allergy. They asked a lot of questions. I actually like when this happens b/c the only way for people to understand food allergies more is to be informed about them. So hopefully my educating them a bit helps another child or parent. And they were very nice about it and really wanted to know. And this theater is much more low-key with food than the other where we saw Diego. They have snacks for sale, but only bagged snacks - like chips, etc. They did have cheese popcorn, but the food is not nearly as bad there. Most people brought their own. But it's a much less stressful venue than the Tweeter Center in Camden.
Here are some pics of the show...
Watching the Show: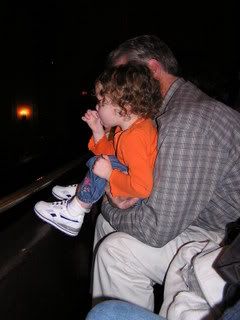 Waiting for Intermission to end: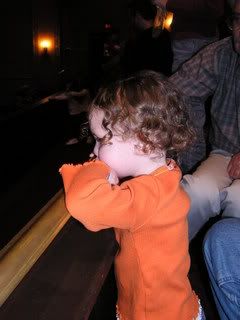 Kayla & her balloon:



The girls both had a blast painting their Easter eggs. Kayla wouldn't have stopped if she had a choice. I also had a nice dinner Sat night with my gf. I did get a bit spoiled this weekend with all the eating out w/o the kids. LOL

Easter was a great day. The girls loved what the Easter Bunny brought them. They also got to see their uncle (J's brother), so it was a really nice day. And Kayla actually ate the turkey, of course tonight she decided she didn't like it. Figures!

Here are some pics of Easter Fun!

Painting their eggs:



Kayla eating her bunny: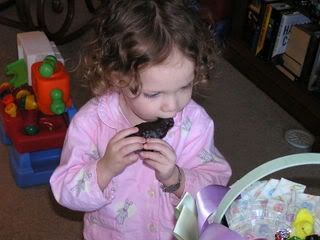 Racing their new trucks from Nanny & Gramps: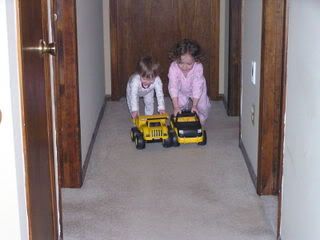 The girls all dressed up: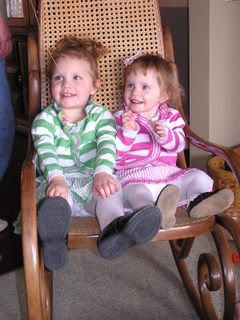 I spent a busy day today doing laundry and unpacking their new toys and all their junk from the weekend. Not sure why I bothered, as we're going to visit friends in MA this weekend. I also drove down to pay my taxes, but of course, they were closed. And I'm sure they were off Friday too - I should have known, why would they be working on a work day? It's such a pain dragging the kids out for errands that don't happen.

And my latest mission is shopping for a new camera. Mine has some quirky features that drive me crazy and make taking pics a pain sometimes. Plus, it's been acting up a lot lately. It's 3 years old - not sure if that is "old" for a digital camera. But...Kodak has a new one coming out - ready to ship on April 30th. So I'm looking at that one. I've got my birthday money coming to me this month. So I'm getting excited!!! Like I'm not insane enough with the camera I have now. ;)

So that sums up our weekend. Hopefully I'll get to recuperate a bit this week since I didn't sleep well Saturday night. I think I'll do a little of that tonight.

posted at
8:07 PM
3 comments