Wednesday, April 04, 2007
Yikes! She's Getting So Big
So, first she gets potty trained really fast. Then she has a couple freak-outs when she woke up from her nap having to pee really bad and being trapped in her crib.
So...months sooner than planned, we decided to change her crib to the toddler bed. Now, this child loves her bed. Although, I refused to underestimate her again, I was aware that she may not like the change, as she's such a creature of habit.
Well, when she saw her crib with the side off, she screeched from excitement. She thought is was the best thing in the world that she could get in and out of bed on her own. She told us "I love my new bed". She's too sweet.
Here is her new bed and her in it...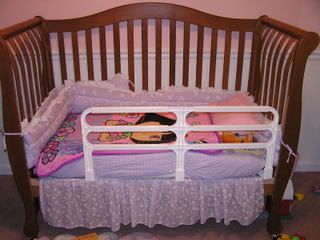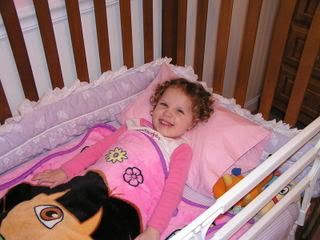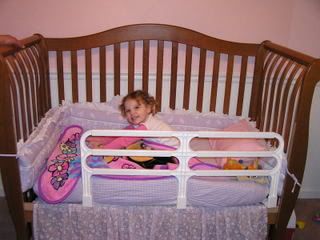 And it's now 9:15'
ish
and she is fast asleep. We have a video monitor so we can see her. She NEVER left her bed. Amazing! I'll let you all know tomorrow how she does the rest of the night and how she likes waking up with freedom. Naps may be a whole different story too...
Have a great night!

posted at
9:15 PM
5 comments