Thursday, May 10, 2007
Thursday Thirteen #23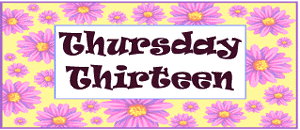 Just 13 of the Many Things I Love About Being a Mom
1. I love that I created (with the help of J of course and some doctors…) these 2 little people.
2. I love Big Squeezie hugs.
3. I love to kiss the soft, warm cheeks fresh from sleep.
4. I love to hear them call me Mommy.
5. I love the pure excitement when Daddy comes home from work.
6. I love being responsible for taking care of 2 little people.
7. I love the things they come up with and say.
8. I love sleepy cuddles right after they've woken up.
9. I love to hear that they look like me or J.
10. I love sweet Toddler kisses – wetness and all.
11. I love to see the world through their eyes – they don't take anything for granted yet.
12. I love to wonder what is going through their minds at any given moment.
13. I love to hear their laughter and know that I have 2 happy kids.

Get the Thursday Thirteen code here!

posted at
8:03 AM
6 comments