Monday, May 07, 2007
My 1st Digi Scrap Page
Instead of traditional scrapbooking, I decided recently to get into digital scrapbooking. It's less expensive, less time consuming and space-saving. Not to mention it's right up my alley since I love doing anything and everything on the computer. I have spent the last couple of weeks researching software and hunting up kits with papers and elements. So...I finally made my first page tonight - the picture is from Easter - Alysa was miserably tired but also quite snuggly.
Let me know what you think. My goal is to make one ongoing family album. Of course, I have a lot of back pages to do since I want to start with Kayla's pregnancy.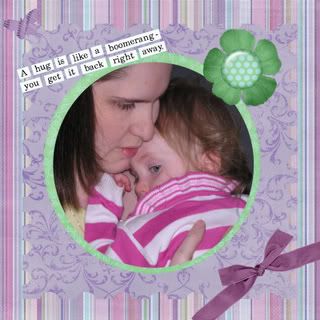 I got the kit for this page from
Miss Mint
. It's called Lilac Garden - perfect since my favorite color is purple.

posted at
8:00 PM
5 comments