Friday, May 04, 2007
Exhausting Day
I took the girls to the Philadelphia Zoo today with my girlfriend and her 2 boys. Kayla had a blast, but Alysa was a bit on the tired side so she was very cranky and miserable most of the time. And she won't sleep in the stroller, so it was an interesting morning. I had a mini freak-out though. I took Kayla, Seth & Alysa on the train ride and when I was done getting Alysa situated on my lap, I turned and saw Kayla putting something in her mouth and chewing. I freaked out, putting my finger in there and asking her what she ate. She responds - "Oh, a pretzel". So then, as I'm throwing some of the chewed up pieces on the ground outside of the train, I asked her where she got it - as I'm silently praying that it was a leftover piece that she had from earlier. Nope - her response..."Oh, on the floor" as she points to the floor of the train. I was NOT happy and had to scold her about picking things up off the ground and eating them. Even though she's on the Zyrtec, I gave her a dose of Benadryl to be safe. Thankfully she had no reaction.
It was a nice day and I'm glad we went, but of course, it was a food allergen obstacle course, but we made it through. It really wears you thin to have to be so on guard everywhere you go. It can just suck a lot of the enjoyment out of it for me. But the bottom line is that Kayla really enjoyed herself.
Of course they both zonked out on the way home. And I had fun giving really breaking in my new camera. Here are some pics from our day...
Alysa after about 5 minutes in the Zoo.

Kayla & Seth seeing the elephants.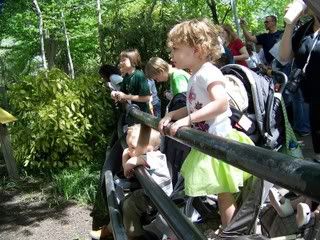 Alysa and her 1 excitement of the day - she's saying "Look. Look." She's looking at the Giraffes.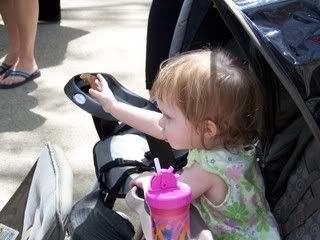 Kayla & Seth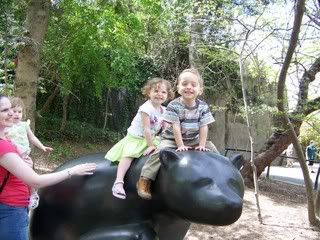 In the car sleeping (no I did not take these while driving).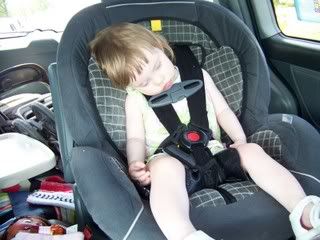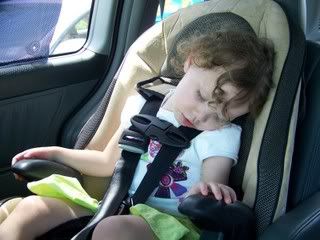 In other news - J spent the last 2 days replacing the walls to our pool. This was no easy task and took the help of his brother and a friend. The pool is about 25 years old and last summer I noticed a wall "caving in". Let's just say, it was a miracle they had not collapsed. Some of them fell apart when they took them out. Very scary, as it's a 10,000 gallon pool. But it's done now, so I can breathe easy. Here are some pics of the progress. These were taken with my old camera, as I didn't want them dropping my new one in the water. :)

Before:


All done.



That's about it for me tonight. I am completely beat.

posted at
7:05 PM
3 comments