Sunday, December 10, 2006
Busy Weekend
So Alysa's party was yesterday. I'm happy to report that it was a success. It was on the smaller side, which was good since it was inside and at my house. But the kids seemed to all enjoy themselves and everyone said they liked the food. :) And my best friend, did not believe that I made Alysa's cake. That's always good on the ego. Here is her cake - homemade by me. It's a 2 layer vanilla cake with strawberry filling.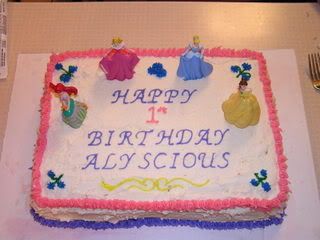 But, I just realized today that I completely missed Saturday's Photo Scavenger Hunt. That really annoys me - but what are you going to do?

I have more pictures to share and more details on the party, but first, I must get dinner ready and then we are decorating our tree tonight. Another exciting, eventful night at our house. But, I will be back...

posted at
4:44 PM
1 comments