Sunday, December 03, 2006
What a Difference a Year Makes
One year ago today, at 1:00pm (on the dot), I delivered a 7lb, 2oz blob. That "blob" being Alysa. She was beautiful and healthy, but a blob nonetheless. Newborns are so helpless, yet they steal our hearts from the moment they are conceived. It amazes me how much can change in 1 short year. Alysa is now a 1 year old Spitfire. She is full of laughter and life. This child never stops moving. And this began in utero. I knew while I was pg with her that she was going to give us a run for our money. She did not stop moving ever. And this part of her personality was quite evident with her crawling at 6 months and walking at 9 months. She is a fun, happy little girl who loves to be silly just as much as her big sister. It's so hard to imagine when your baby is born that in just 1 year; they will be all over the place and beginning to talk.
And for me, I still can't even believe she is here at all. I battled infertility and won with Kayla. We knew we'd have that uphill battle again for #2. Little did I know, I had 1 perfect egg waiting… We conceived Alysa naturally. The problem was I was not "supposed to" and I had started to miscarry when I found out I was pregnant. I was not only blessed and lucky with Alysa, but with a wonderful team of doctors and nurses who were just as diligent as I was in saving my pregnancy. You have to realize how amazing it was for me to conceive. A woman on the pill has a 1% chance of conceiving if the birth control were to fail. Well, my chances without the pill AND with hormonal support of a "potential" pg, were <.5%. Those are amazing odds and we overcame them – somehow. I think I'll always look at her and be amazed at how truly lucky we are to have her in our lives.
I feel the same about Kayla of course, but it's a bit different. I understand where Kayla came from. We had wonderful doctors and a LOT of medical treatments, not to mention some debt. ;) But she was worth every ounce of heartache, every shot and every penny. Alysa on the other hand just boggles my mind.
So as we spend this day doting on our youngest on her special day, I will enjoy thinking back on all her changes this past year. And I will enjoy that I get a whole day with both my girls AND J home (we are going to cut down our Christmas Tree. These days are few and far between, so they are much appreciated.
Here is Alysa 1 year ago…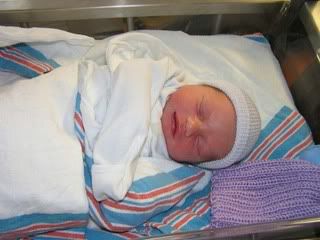 posted at
10:04 AM
3 comments