Monday, September 17, 2007
Sick Again
Yup - that would be Kayla. Hence why I haven't been on-line since last week. She missed Thursday and Friday at school last week due to her virus with a fever and cough. She had no fever Friday or Saturday, which was good b/c that was when my
Sis
was here with Zachary. But...then Sunday morning she was not right. She was pale and said her tummy hurt. Yup, you know where this is heading. She got her first stomach virus of this school season. Thankfully it was pretty mild, especially for her only lasting 3 hours. She was cute though, about an hour after she stopped throwing up, she started coughing - from her other virus. I was sitting next to her and got on alert. I asked her if she was ok and if she was going to "spit up" (as she calls it). She looked at me and said "I'm ok Mommy, it's just a little cough".
Despite the sickness though we had a nice short visit from my Sister. It was the first time the girls got to see Zach. They both adored him. Kayla would not hold him, but she enjoyed playing peek-a-boo with him. We wouldn't let her touch him, although she got in a couple quick touches b4 we could stop her. Alysa on the other hand, takes after her Mommy and is a "Little Mommy". She wanted to hold him a lot. She was asking where he was Sunday morning. I'm excited to see them again in early November when she comes out for the wedding and then again for Thanksgiving when all of them will visit. Here are some pics from our too-short visit.
Here is Alysa holding and kissing Zach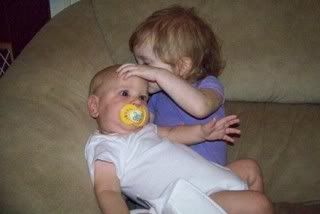 When Gramps came over to see Zach, there was some jealousy going on with Alysa. She didn't like that he couldn't pick her up b/c he was holding Zach and a crying Zach too. So she decided to hug his arm instead.
Alysa holding him again
Kayla would only sit next to him. :)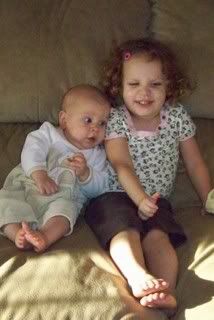 And here is Zach in Alysa's pink princess chair.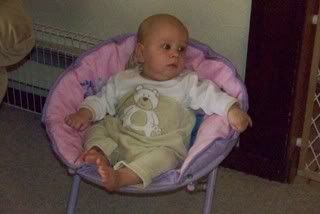 I hope everyone had a good weekend. Wish me luck getting Kayla back to school tomorrow w/o any griping after her 5 day weekend. :)

posted at
10:47 AM
5 comments