Tuesday, September 04, 2007
Preschool & Trip
First, I'll start out by saying it's good to be back. I never was able to get on the computer b/c we had a last minute change of plans. Friday morning, as we've got the car packed and ready to go, we found out my niece, Maddy was sick with a 104 fever. I REALLY wanted to go to Ohio, but I didn't want to chance my girls getting sick, especially with Kayla starting school on Wednesday. My
father
didn't want to risk getting sick either. The last time they went to Ohio, a tummy virus went through the entire house. So, he had the great idea to instead, head south to North Carolina to visit my Grandmother. So that is what we did. The girls had a blast and it made my GM's year!
---
So my Big Girl Kayla starts preschool tomorrow. I am a huge mix of emotions. From excitement, to worry over her adjustment (although I know once she adjusts she'll love it) to that deep down fear over her food allergy management. I have done my best to give the concise and thorough information on how to keep Kayla safe. I typed up instructions detailing her allergy and her known reactions. I gave them instructions on how to manage her snacks and other school functions such as arts and crafts with food and birthday parties. I made up laminated cards that list all the ingredients that dairy hides behind. I also made up cards with an Emergency Action plan in case of exposure or reaction and they have her picture on them and are laminated. All of these were given to her teacher last week. I have not heard from her with questions, so I'm taking that as a good sign. :)
When I drop her off tomorrow, I will be giving her teacher this pouch
which will have a bottle of Benadryl and a dosage cup as well as her Epi Pens and her Medic Alert ID card. This will stay in her classroom and will go with Kayla wherever she is.
Then I made up a nice snack box for her. I really liked
Janeen's
idea, so I snagged it and labeled her box "Kayla's Safe Snacks". I also added added some fun stickers and made some up to label it correctly.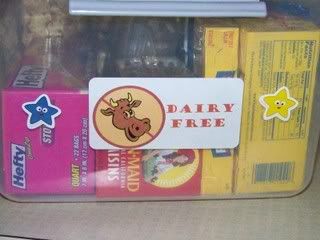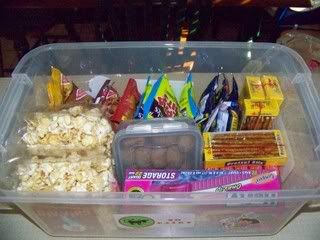 I have a variation of snacks - teddy grahams in different flavors, pretzels, graham cracker sticks, popcorn, shortbread cookies and some chocolate chip cookies that look similar to munchkins in case parents stop at Dunkin Donuts (which is known to happen). As soon as they come in, I'll be adding some granola bars. I also have in there a box of ziplock bags in case they need to save anything. This way I know the bags have not been cross-contaminated. Yes, I'm anal - but you can't be too careful.
So as I said, I'm as prepared as I can be. And it was great that
Janeen
and I are both starting this venture together. Her youngest son (who has multiple food allergies) is starting preschool as well. So it was great to have her to collaborate with. We were able to "proof" our action plans and instructions to make sure neither of us missed anything. Thanks Janeen!
---
And since I spent some posting time last week griping about food allergy idiots, I thought I'd share a very pleasant experience that I had this weekend in North Carolina. Saturday morning, we took the girls to the
Wilmington Children's Museum
. When we got there, I asked if they allow snacks in the play areas. I asked this fully expecting them to say NO - only in the snack areas. What I was told is yes. It really floored me as I've never been to a place that allowed snacking in the exhibit area. Why you'd want to clean up food is beyond me. But...we got there when they opened, so I decided to give it a shot and figured we'd leave if it became an issue. I will say I never saw one morsel of food anywhere while we were there. The girls were having fun playing and I looked up towards the front desk and I see them making butter popcorn (they sell it). With that in the museum, I couldn't stay. So I told my Mom that we'd have to leave once I saw the popcorn around the museum. W/o me knowing, she took it upon herself to ask if we could get a refund, but we had been there almost an hour at that point. The girl my Mom spoke to said she could give us coupons to come back and if we do come back to call ahead of time and they'd hold off on selling the popcorn while we were there. Let me preface this by saying I would NEVER have asked them to NOT sell something for us. But since she offered, I went to her and said, is this something you could do now. Basically, what's the difference between today and another day? She said they will be having a show soon and the popcorn is very profitable. I understand this. But then, she offered to hold off for this show so my girls could see it (of course they weren't interested). And she said she'd hold off as long as possible. Again, this is not something I ever would have requested - I would have just left. So we continued to play there with the girls. Then another employee up to me and said she was told to ask if it was ok for them to sell the soft pretzels. Now I would never feed them to Kayla, but they are MUCH less of a risk than buttered popcorn. I told her that was fine and thanked her for checking. Most people actually assume pretzels are automatically safe (which many are not). Then we were downstairs a little while later and the initial woman we talked to (she was the customer service lead - no manage was on duty at the time) came up to me and said she was going to hold off on selling popcorn until we left. Again, this was ALL her. I thanked her profusely. I so appreciated how she went above and beyond for Kayla. I made sure to tell her this. And we had told her we were from out of state - so she knew we weren't going to be frequent visitors. Initially when I saw the popcorn I had decided to NOT go back on future visits. But after my experience there, I would most certainly go back and put their site up so others who live locally can know about them. They have so many fun things for the girls to do and they were wonderful to Kayla in a hard situation. Kayla never knew there was an issue and it was so great to not have to cut her visit short b/c of food.
I know that got kind of long, for which I apologize, but I love to share stories of strangers going out of their way for Kayla. And luckily for us, things like this are more the norm for us than the exception. And I appreciate every single person that helps me keep Kayla safe. I will be calling the manager this week to let them know how wonderful Laura was to us and how I will recommend them and will come back when we visit.
---
I hope everyone had a great weekend. I now must start my catching up with everyone! Later today or tomorrow, I will get some photos up from our trip.

posted at
8:33 AM
4 comments