Saturday, September 29, 2007
Alysa
Alysa had her Upper Endoscopy yesterday. It went well. She freaked out a bit coming out of the anesthesia, but not as bad as Kayla did. She calmed down quicker and conked out in my lap – I miss those days. ;) The doc found irritation in her stomach, so she's back on Prevacid – definitely reflux. But she also saw that the opening to her stomach is VERY small, so that is causing problems with her eating. It could be either muscle spasms – which there is medication for. Or it's just too small. She is going to get copies of the pics from her Upper GI from when she was 3 months old. If that looks ok, then it's a spasm, if not, then "it's a whole different ball game." At this point I was with a screaming child, so I couldn't ask questions beyond that. It makes sense now though as she always preferred to drink rather than eat (even cereal baby food) and what she will eat are all soft – yogurt, eggs, bananas, etc. I'm figuring it's uncomfortable/painful to push harder foods through that little whole. The poor thing.
She was quite the comedian at the hospital. They gave her the "giggle juice" and she was very cute. I got a bit on video w/o my digital camera. Unfortunately, her true giddiness didn't show through until the nurses came to take her back. But we can tell a bit she's off on the video. When the nurses came she was all smiles and laughter. At one point, she started to fall backwards (she was sitting on the bed) and said "Whooooaaaaa!". She even wanted the nurses to carry her instead of riding in the bed. She also had Baby and Taggie with her, which always helps.
Here she is cute as can be in her too-big hospital jammies...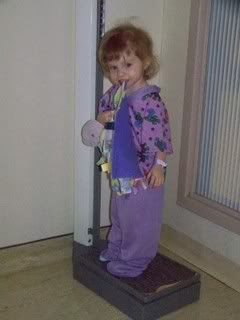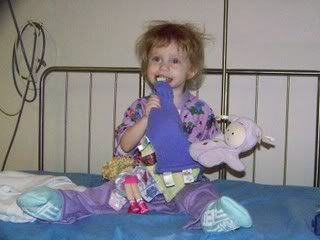 Here is a little video of my "drunk" girl...
We all know when it rains, it poors. J is having surgery on his wrist on Tuesday. He got a splinter a month or so ago and it punctured his vein. Apparently, instead of healing, all this inflamed tissue/scar tissue grew OUT of his arm. He's got this hideously ugly/painful growth on his wrist. And it's on a tendon so he had to go to a hand surgeon who is surgically removing it on Tuesday. Fun! Never a dull moment in this house. And Alysa's surgical copay was $150, so that means J's will be too. Nothing like killing us all at once when I'm trying to X-mas shop! LOL
I hope everyone is enjoying their weekend.
:)

posted at
9:48 AM
4 comments