Wednesday, July 11, 2007
Unpacking to Pack Again
Ok - the last few weeks have been ridiculous for me. We got back Monday evening, which means that yesterday I was able to take some time to unpack the girls stuff. Only to start packing my clothes again for my trip to Ohio. My flight is tomorrow night at 8:35. That also means I have to pack up the girls to go to my Parents' house for the weekend. Thankfully, I only need to pack normal things like clothes, tooth brushes, etc. No food or toys are required. But still - that means I have to finish all of that tonight. I work tomorrow and will get home at around 5:30 and will be leaving for the airport immediately.
Although, I'm very excited to visit my
Sister
, I'll be glad when my traveling is done with for a while. It will be so strange to travel without the girls. It will be my first time away from them for this amount of time (Thursday night through Sunday). The closest so far was my hospital stay, but that was only 48 hours and I saw Kayla each day. But, I think the strangest thing about it all will be not having to watch what I eat. No reading labels, no watching what others are touching, no washing my hands or mouth. I'm looking forward to that, but I also know it's so much a part of me and my life that I'll probably be washing my hands anyway. Touching dairy now makes me "feel dirty". All I'll have to do is make sure my clothes are 100% dairy-free for the trip home.
I used to be able to get out there about 4 times a year, but that, of course was b4 I had kids. So it's nice to be able to go there unencumbered and just focus on my niece and nephews. Colin told me yesterday that he has a birthday party and although he's looking forward to it that it stinks it's when I'm there. Very sweet. My sister and I plan on taking some time to take Maddy to do some girly shopping. Of course, little Zachary (he's 2 1/2 months old) will join us, but I don't think it counts on barging in on a girl's day yet.
We had a nice trip to North Carolina. It was great to be able to visit with my gm and she was thrilled to have us there. The girls love her and had so much fun in her house. We spent a lot of time moving all her beautifully tempting knick knacks out of reach. We almost made it through but Sunday night Alysa managed to break something. Ho hum...it was bound to happen. At least it wasn't anything expensive. ;) Saturday, we went to a nearby playground and then just hung out as it stormed and rained all Saturday afternoon. Sunday we went to an Aquarium and then took them to the beach. It was their first time there. Alysa was so exhausted by that time that she hated it. But Kayla couldn't get enough. We had not planned it, so we were unprepared, but she didn't care. She ended up drenched and covered in sand and couldn't have been happier.
Last Thursday, Alysa shut down and has refused to eat anything since. Ok, she'll eat some yogurt and fruit. But she won't eat anything of substance. If I'm lucky, she'll eat a bit or 2 - 3 tops! I don't want to jump the gun on the Prevacid too quickly, but she can't go on not eating indefinitely. So I had her looked at by her Ped yesterday to rule out major teething. Her teeth have been slow to come in, so I was hoping maybe she had all 4 molars ready to come through. No such luck. Her gums are a bit swollen, but nothing close to the surface yet. So...it could be teething, reflux or a bit of both. I am waiting on a call back from her GI doctor. Figures, she's on vacation this week, but she's calling to check her messages. Hopefully I'll get a call today - I'm heading quickly into panic mode.
Anyway - Hopefully I'll be able to post a few things from Ohio or at least check in on some of you. In the mean time, I'll leave you with some pics of our trip...
Alysa with my GM: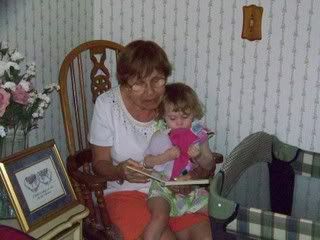 Me with the girls:
Fun at the Aquarium: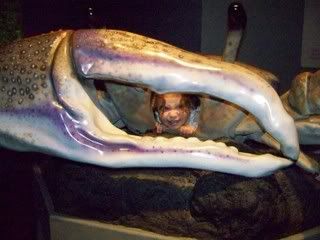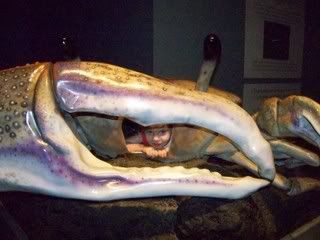 Kayla's at the Ocean:
Drenched and loving it: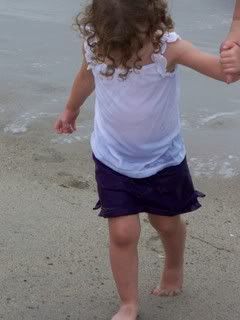 Kayla found a dead butterfly: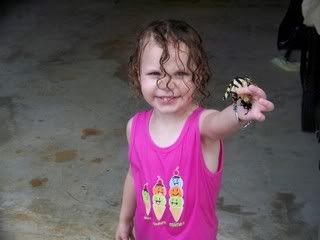 Alysa after water fun: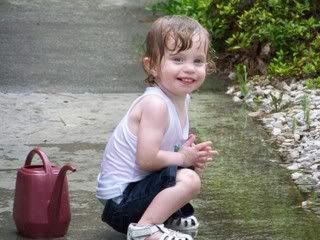 Have a great weekend!

posted at
12:13 PM
6 comments