Monday, May 14, 2007
Mother's Day
I had a nice Mother's Day. J took off from work as he always does. My parents came down in the morning and J made us all a big breakfast/brunch. He did all the cooking and all the cleaning up. Always nice. Our breakfast consisted of eggs, banana pancakes, bacon and sausage. And of course - it was all dairy-free. Kayla ate like gangbusters (it was their lunch). She had 2 whole pancakes, some eggs, 2 pieces of bacon and some strawberries. Alysa, didn't do so well. She ate 2 pieces of bacon, a half of yogurt and some strawberries - she would not touch her pancakes or eggs. Can't say I blame her on going for the bacon though. :)
After brunch, the girls went down for their nap (well, Alysa did - Kayla never napped). My Dad put in my hot water dispenser which we've had for a year sitting in our garage. I'm excited that it's finally up - now I don't have to store a tea pot anymore. Yay!
After their naps, we took the girls miniature golfing for the first time. I'm sure you can imagine that they preferred the obstacle course that was the golf course more than playing golf. But it was a beautiful day and they had a lot of fun. After golf, we went to an awesome playground by us and then home to have a cook-out and more outdoor fun. Again, Kayla ate great - potato chips while Daddy was grilling, then a whole hot dog, some baked beans (refused potato salad) and a whole piece of
Apple Kuchen Coffee Cake
. Thanks Michelle! Alysa? In between the slide and swings and just generally running around the yard like a mad-Toddler, she ate some potato chips and 2 bites of hot dog. I am guessing we won't be doing much eating outside this summer. LOL
I can't say I got any downtime, but I enjoyed my time with my family. We don't get many days with J home with us, so I enjoy what we can get. Here are some pictures of our day.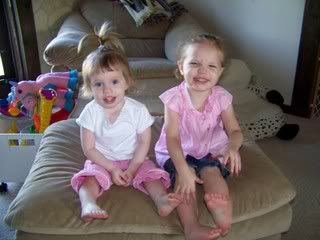 Me and the girls...
Kayla golfing...
Alysa golfing...
The Girls getting into trouble...
Alysa having fun with Daddy...
Me and Kayla...
The girls back home waiting for dinner...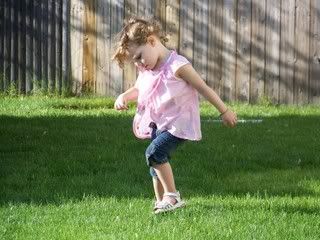 Here is a video that I took with my camera. It's the first time Alysa actually sat on the big girl swing and held on. Keep in mind that she had been swinging all by herself with my Dad pushing her for at least 5 minutes b4 I starting filming.
I hope everyone had a wonderful Mother's Day!

posted at
8:40 PM
4 comments