Wednesday, April 18, 2007
I Won a Prize!
I'm excited because I won a custom frame from Jill over at
Who Could Ask for Anything More
from the UBP. Now, as I'm sure you can tell, I'm a picture fanatic. I take a TON of pictures and have so many displayed at home. So I could always use a new frame.
When Jill contacted me I told her I wanted a frame for my girls and left the rest of the creativity up to her. I received my frame today and I love it. It's very simple and "girly" and it's so pretty. Now I have to go order a new picture to put in it! However will I choose out of the bazillion that I take?
Here is the frame that she made for me...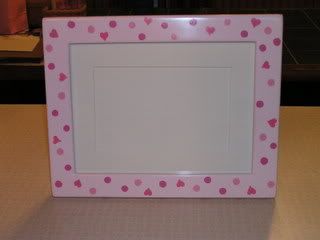 Thanks
Jill
!

posted at
7:45 PM
3 comments