Friday, September 15, 2006
A Fun Day
Well, last night I had a girl's night with a couple of friends. We had a great time and it was nice to get out. Of course, they dragged me to dinner in Philadelphia and I'm a Country Bumkin, but it was a great night. The only negative, was that I have my long day of work on Thursdays, so I never got home after work and b4 dinner, so I did not see my girls b4 bed. It was my choice, but I knew it would be much harder on them (and me) to go home for 10 minutes and turn around and walk out the door. They would NOT have been happy with that. Especially since on those days, they attack me when I walk in the door and won't leave my side until bedtime.
Anyway - today we had a fun day together. Kayla had Gymnastics in the earlier morning and then after that Alysa's Kindermusik class started. It was a busy morning but the girls had a great time.
Then, J (aka DH) got home from work early and he was able to bounce the girls around on their "circle" as Kayla calls it. It's actually a mini moon bounce type of thing without sides. Both girls love it.
Since we don't get much family time with the 4 of us - it is time that we cherish, so I wanted to share. Here are a couple pics...
Here is Alysa being bounced ever so gently...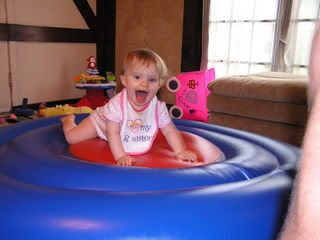 Here is Kayla...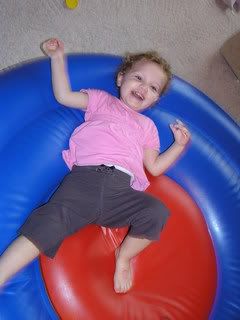 posted at
10:22 PM
0 comments