Sunday, July 22, 2007
Eventful Weekend
Luckily, although a lot has gone on, we haven't been too busy. We had a birthday party yesterday for one of Kayla's friends. We met him through her music class 2 1/2 years ago. The weather was perfect - low 80's, lots of sunshine and lots of shade. The girls looked so cute in their dresses, but they didn't stay on long as soon as they saw the kiddie pool. My gf was great and of course, on her own decided not to do goldfish. So there was no food that was too much of threat. No dangerous snacks. The most dangerous was the cheese on the burgers, but all the kids were eating the hot dogs. So it was as low stress as a party can be for us. We were able to enjoy the day, the girls and the party a bit. And, since it was close to home and lower on the stress scale, we stayed a whole 3 hours. Kayla got to sing Happy Birthday to her friend and we left after the cake was served. Kayla thought all was right with the world since she got a cupcake and Alysa got to have a "real" chocolate chip cookies and "real" birthday cake. She loved both! And I was happy she was able to try them. On the way home, I asked the girls what their favorite part of the party was. Kayla's answer was "cupcake" and Alysa's was "Alysa".
All ready for the party:
Having fun!
Yum!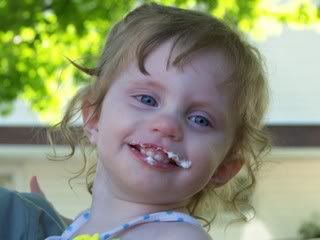 Today we haven't done anything except a couple errands. I had the girls outside this morning and Kayla had a blast playing in the new storage shed we got.
It's one of those rubbermaid ones. One that we really wanted to store their toys in but did not want to break down and spend the $200+ on. A friend of a friend bought a townhouse and viola - the old owners left the exact one J wanted. He was going to throw it away, so he gave it to us. Yay! It's huge and Kayla thinks it's her new playhouse. I guess she'll be fighting J for it. ;)
Of course, what's a weekend w/o any drama? With all the up and down temps and rain, and humidity, we had some mold/fungus stuff on our mulch. Guess who decided to take a taste this morning? Alysa of course. So Kayla was very ticked when I quickly dragged them inside so I could call poison control to ask about it. Luckily she said it is fine and just to wash out her mouth. Ha! Easier said than done. Then late, she tripped in the house and fell on heaven knows what and cut her gums above her top front teeth. Man did it bleed and she has a scab. Poor thing!
I've also come to realize that even when you have the money put aside, it hurts to write out big checks. I'm paying Kayla's preschool tuition in full this week as well as our property taxes. OUCH! I just can't even think about it too much. But that means that I'll be setting up a meeting with her teacher and director soon to go over her special needs surrounding food. Again, something else I can't think about. But...we're only 3 weeks away to getting her tested again. Yikes!
I hope everyone else has had a good weekend. It was nice to actually stay home this weekend!

posted at
3:41 PM
3 comments