Saturday, February 10, 2007
Go Diego Go Live!
What an exhausting day. My Mom and I took Kayla to see the Diego show today. Kayla was so excited and had a great time. Her favorite character today (Dora was only in it a little bit) was Baby Jaguar. She was mesmerized the entire show and asked for Baby Jaguar the few times he was not on stage. She participated a few times when asked, but for the most part was just content to sit back (in my lap), suck her thumb and stay glued to the stage.
For me? It wasn't as enjoyable. Don't get me wrong - it was an awesome production. The acting and singing was phenomenal. The costumes and staging was amazing! I couldn't have been happier with the show itself. It was the vast amount of potentially deadly food that threw me for a loop. Now I knew food would be there. We took Kayla to see Dora back in April at another arena. And food was there. Popcorn and other snacks. But for the most part, there was very little food around during the show. We just couldn't let her down in the lobby. But this place - a WHOLE different ballgame. There was popcorn on the floor b4 the arena even filled up - they apparently don't know how to clean up very well. Every where I turned there was pretzels and chips with cheese sauce dip and, the worst - bags of buttered popcorn. Again, I knew we'd encounter food, I just didn't expect it to this extent. I felt like I might as well have been in a movie theater (which we refuse to take her to right now due to her contact allergy). So we got to our seats (early luckily) and I know I was getting looks. I'm sure people were thinking - look at that germaphobe cleaning all their seats. Yup, there I was with my package of wipes, wiping down the arm rests and all parts of the seats - the back, the front, the cushions and the backs and tops of the ones in front of us. Again, I'm glad were there b4 anyone else in our area. But there I am the entire show, sitting in the middle of the row with people all around us with pretzels and popcorn and at one point, the child a few seats down dumped half his bag of popcorn on the floor. Mental note - don't leave that way. I felt like I had eyes all around my head. Then b4 the show started, I hear a Mom behind us say the dreaded words to her gf. I have goldfish for the kids. Oh - is there anything worse? So now, my ears are trained to listen for the ripping of a goldfish bag. And all through the show, the girl with them is leaning on the empty seat next to me - the one empty b/c K is on my lap - the one with our coats, etc. Then during intermission - I hear the girl say "I'm hungry" - and rummage-rummage-rummage. I am looking out of the corner of my eye - what does she pull out - the bag of goldfish. Again, this is the girl who likes to lean on our seat. So I politely turn to the Mom and asked her if she would just not have her touch our seat after she eats the goldfish. I explained why and was super nice, etc. Her response? Oh, not a problem. Honey, sit back in your seat while you eat the goldfish. Then to me - I'll wipe her hands with a wipe as soon as she's done. And she did. *sigh* It's refreshing when you encounter such wonderful and understanding Moms. Of course, she's probably thinking "better her than me". Then of course, she asked some questions, etc and thought it was sad. She was so nice. I was so appreciative.
The worst part? Kayla. The poor girl wanted cotton candy desperately. Now, she's never had it and doesn't know what it was. But I kept hearing - "Mommy, I want that". Of course, we don't know what it's touched, etc. So it's a no-no. Then, what broke my heart was telling her over and over that she couldn't have one of the huge, delicious-looking soft pretzels that everyone around us was eating. Luckily, I had safe pretzels with us - but they're no soft pretzels. That was hard for me too - I was starving! LOL
So I was so tense the whole show - watching all around me and not letting Kayla touch anything. But it paid off. We had not contact and therefore no reaction to contend with. But when we left the building, all the tension left my body and left me with a HUGE headache. Weird when tension release can give you that kind of pain.
She was none-the-wiser though and couldn't have been happier. So aside from that it was an amazing show with wonderful performers who looked to be having fun with the kids. All the kids there was so cute singing and playing along. And it's refreshing as a Mom to see a show that is 110% appropriate for kids. Definitely worth it.
Here are some pics of our trip. And yes, I stole a pic at the end of the show. Ssssshh...don't tell. I was hoping to get a better shot of Baby Jaguar (on the left), but it was towards the end and some of the kids were standing. Baby Jaguar's costume was my favorite - he was adorable!
Here is a pic of Kayla "with" Diego. They took a pic that I'm waiting to be available on-line. Will post when I get it...
Here's Kayla waiting patiently for the show to start...
Kayla is ready to help Baby Jaguar get his growl back...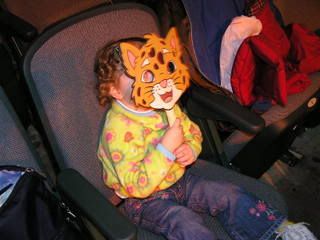 Here is the final scene. It doesn't do the props and scenery justice...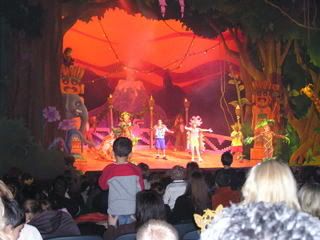 Kayla is really enjoying the last song...
Alysa got a souvenir too even though she was home with Gramps all day...

posted at
8:37 PM
4 comments