Saturday, December 16, 2006
Saturday Photo Hunt

So this week's theme is Annoying...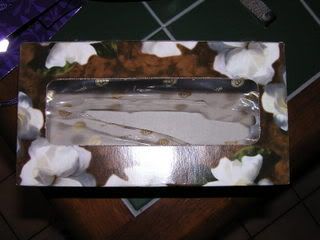 Yes, it's an empty tissue box. And why, you ask, do I find this annoying? Because it symbolizes that yet again, my kids have colds. It's been on and off again for a few weeks, and more importantly on this past week. Which means my youngest doesn't eat and she's so small, she can't afford to not eat. And my oldest, who has gotten worse the past 2 days doesn't sleep through the night. This started last night, so that means exhaustion for me. And of course, the inevitable cold for me, which I'm just waiting for...
I also overlooked the fact that I should have bought stock in Kleenex. :)
To view other Saturday Photo Hunts or to view the line-up and join in, click
here
.

posted at
7:46 AM
3 comments