Tuesday, October 31, 2006
Trick-or-Treat
Well, we are beat. We ended up being out for about an hour on the trick-or-treat circuit. But it went very well. Alysa was exhausted, but she did really well, b/c she was outside. That's all that matters to her. Kayla had a rough time at first. Cried with the first trick-or-treaters that came to our house. She is afraid of "characters", so she was scared of the kids in costume. She cried at the first few houses, then she calmed down and was good once she figured out they gave her candy. The kids never had candy b4 tonight, but she was excited to get it. After a while, she was walking up the houses and even did a few w/o me by her side. :)
Of course, she's been asleep for 10 minutes and she already woke up with a nightmare. Yikes! The poor kid. All the spooky sounds and decorations and kids in costume. Hopefully that's the only one of the night.
Jerome and I made out with a lot of chocolate goodies, since Kayla can't eat anything she got tonight. But we got her plenty of safe chocolate and candy, so she won't miss out on anything.
Here are a couple pics of my little ones in costume.
Alysa - our little flower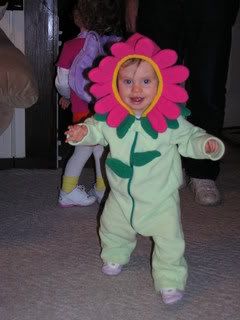 Kayla - Dora the Explorer/Star Catcher (who knew Dora had curly hair)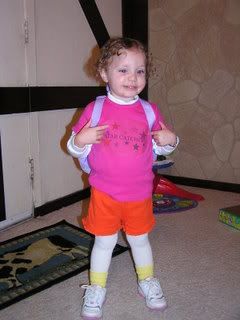 Both of them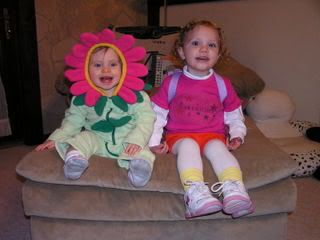 Trick-or-Treat
Hope everyone else's Halloween was just as fun!

posted at
8:23 PM
3 comments