Tuesday, October 31, 2006
Catch-Up
It was a long weekend for us. First, Blogger wouldn't let me republish my Blog ALL day Saturday, which is why my Photo Hunt did not show up until Sunday morning. Very frustrating. And of course, we are all still sick. But at least we are finally on the mend. Well, all of us except Jerome, who just got it on Saturday. I'm still congested and have a lingering cough, but my sore throat is GONE. Yay! Alysa and Kayla both still have some runny nose and lingering coughs as well. Alysa still won't eat much, but I'm holding off panic mode until she's better. Colds also make reflux worse, so it might be too much for the Prevacid to "keep in check". Fingers crossed she goes back to normal when it's all gone.
Kayla was well enough for Gymnastics on Saturday. Jerome was off, so he took her. She had so much fun. Then, Sunday her runny nose came back some. Ho hum… Had the family over for dinner Saturday for Jerome's 10 year Cancer-Free Anniversary. It was a nice time. Sunday my Mom was nice enough to come over and give me time to rest. I actually got to take a nap – 2.5 hours worth. That was wonderful!!!
Yesterday, was a low-key day. Kayla and I did some Halloween crafts. She made some sponge ghosts and a spider with her hand. I made some cut-out bats and a black cat. We will finish by putting the eyes on today. Then we made cookies. Of course, she wouldn't go near the hand mixer. But she enjoyed putting the cookie balls on the stoneware. And she loves licking the bowl and of course eating the cookies. I've uploaded some pics below.
So today is Halloween – it's Alysa's 1st. I'm looking forward to trick-or treating tonight. I will definitely post pics tonight b4 I head off to bed. Every time I tell Kayla we'll be going trick-or-treating. She says, "Abuela's house". Can you tell she's been watching the Dora Halloween episode? We all ready for Kayla too. I made all my final phone calls on the candy we had gotten. So we have a pretty good selection of safe candy and chocolate for Kayla. All dairy-free. Yay! She's actually never had candy b4, but she's had chocolate. So we'll see if she even likes candy. We'll have to see if she even will go up to someone's door. LOL I'm sure we'll get the usual – her fussing and whining from being scared, then she'll snuggle me and say "It's ok" to comfort herself b4 I even get a chance. Hey – don't all mothers want their kids to know how to "self-sooth"?
Jerome took off today for Halloween, so it's a good day at our house! I hope everyone has a fun Halloween, I know we will!
Painting ghosts...
You can see she doesn't get the "place 2 inches apart" concept...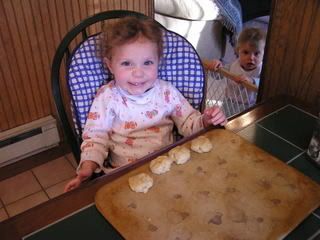 posted at
1:34 PM
1 comments