Thursday, April 17, 2008
Odds & Ends
First, let me start by saying how tired I am of this book...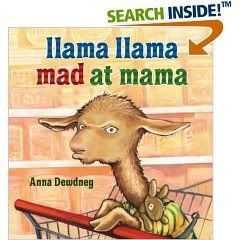 Alysa got it from the Easter Bunny and it has been her naptime and bedtime book every day since.
It has been absolutely gorgeous here. Yesterday, being that it was my birthday, I made the girls and I breakfast for an early dinner (J was working late), had cupcakes with them so they could sing to me and then took them outside for over 2 hours before bedtime.
Here are some clips of them singing to me. Alysa was not into it at first until she switched seats with Kayla. Yes, the fish, Sister, had to join us. You'll hear me call it Freddy - I can never remember that this is a
new
fish and not the old one.
My parents came down to watch the girls so I could go to my Food Allergy Support Group meeting. I'm paying for that today because as usual I was at the meeting until 9:30 and then one of the other members and I bonded for an hour in the parking lot. Come to find out both of our husbands are Cancer survivors, we both battled infertility (and used the same doctor's office) AND we both have a child with food allergies. We've decided that at our next meeting we'll go out for coffee afterwards instead of standing in an empty parking. ;)
---
Here is Kayla's current favorite song.
Kyle Dine
suffers from multiple food allergies and has a CD with songs all about food allergies. I got the CD a month or so ago and Kayla has just gotten into it. Her favorite song is Epi-Man. So not only am I reading
Llama Llama Mad At Mama
multiple times a day, my CD player in the car always has Epi-Man on repeat.
Here is a clip with an interview with him and after the interview, he performs Epi-Man.

posted at
1:46 PM
5 comments