Saturday, October 27, 2007
More Halloween Fun
You can read about Kayla's school party
here
.
---
Last night I took Kayla to Borders for a Halloween party. We met my gf and her son, Seth there. Of course I called ahead of time to find out if food would be a part of it (I always like to know what to expect). I was told no, which I was thrilled about. They read some halloween books and the guy put on a scary mask which Kayla did not like at all! They also did a costume parade and "trick or treated" at the front counter. I tried to get Kayla to bypass the basket of chocolate, but she wanted it so bad. It was all individually wrapped, so I let her grab one and took it away right away. Now I have a Butterfinger to eat - yum! :)
Of course one little girl insisted on eating hers at the next book reading. Luckily, when she was done, the Mom was looking for a tissue, which gave me the perfect opening for "I have wipes". She was very appreciative - if she only knew. ;) Then when they were painting their little pumpkins, the guy said, he was going to get the brownies - groan, groan, triple groan!!! I had nothing similar to offer Kayla, plus brownie crumbs get everywhere. And of course he put them in the middle of the floor. Then he put the markers and paper right next to them. Kayla, of course, HAD To color. He was great when I asked if he could move the brownies. He was downright apologetic when I explained that she'll react by touch. So they were very nice. We left shortly after that so the crumbs were not a huge issue. We spent an hour there and Kayla had fun. Of course, I have pictures.
Kayla and Seth listening to the story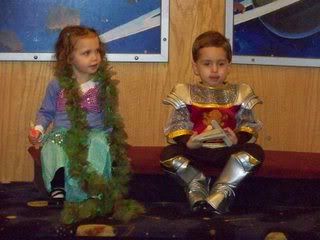 Kayla when Mr. M put the scary skeleton mask on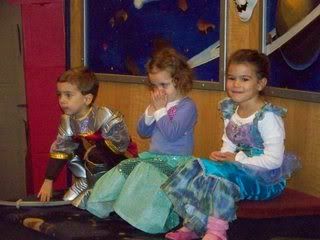 Me out from behind the camera
Kayla & Seth in the costume parade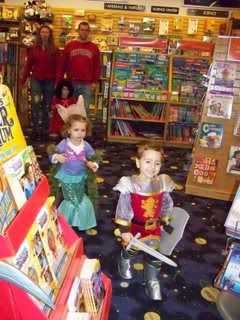 I'm hoping the chocolate and candy overpowers her fear of the kids and adults in costume. We shall see on Wednesday...

posted at
1:10 PM
4 comments