Friday, October 26, 2007
Kayla's Halloween Party
Well, it went off without a hitch. Kayla was super excited to have me there and even had to tell her teacher. "Miss D. Look, my Mommy is here." It was so nice to see Kayla eating the same snack as everyone else. Even the kids with egg and peanut allergies were able to join in. It was exactly what I had hoped for.
The kids all looked adorabe in their costumes. Kayla was one of 2 mermaids. There were 2 witches a few princesses and 3 spider men.
Aside from the snack - they sang some halloween songs and did some dancing. The kids had made up treat bags which was filled with goodies from the other Moms, as well as my mini chocolate pumpkins. Some of the snacks stayed out of her bags b/c they had dairy - but the school will only allow individually wrapped snacks, so it's all no more dangerous than trick or treating. And the bags go home with the kids - no eating during the party aside from the normal snack.
I dug up an old pin from many years ago. It's a skeleton sitting on a bike. You pull the string and he rides the bike. Well, was that a hit. I was surrounded by almost the whole class and I had them all clamoring to take a turn pulling the string. I was trying my best to get them to wait for their turn, but they were all so excited that I thought a mini preschool riot was going to break out. :)
Here are a few pics and a video.
Here is her class - Kayla is in the back right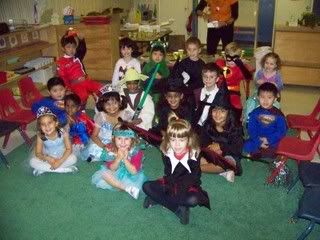 Here is Kayla (left, head of table) getting ready to have their dairy, egg, peanut and tree nut free cupcakes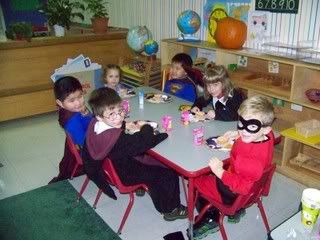 Here they are doing the 5 Little Pumpkins
Singing & Dancing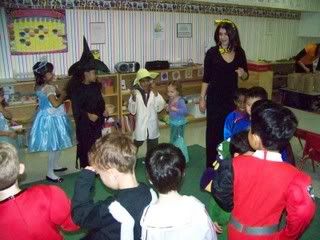 Kayla with some friends
Kayla after the party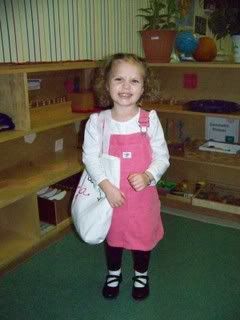 And here is a video of them doing their dance. You can really tell here that she's the youngest b/c she's one of the shortest in the class, if not THE shortest. (in Montessori the age ranges from 2 1/2 to 6).
Tonight I'm taking Kayla to Borders and meeting my gf and her son. They are having a little Halloween party. I'm sure I'll have more pictures from that. Shocking, I know!

posted at
2:28 PM
0 comments