Wednesday, August 08, 2007
Alysa's Ice Cream Adventure
As planned on Sunday, I took the girls up to my parents' house so we could take Alysa out for her first "real" ice cream cone. We went up there in the morning, I dropped them off for lunch and naps and took advantage of the situation and ran out to meet my gf for lunch.
After Alysa's nap, my Mom and I took Alysa. My Mom also had found safe ice cream cones for Kayla, so my Dad was able to give Kayla soy ice cream in a cone which she devoured. She had a total of 3 scoops of soy ice cream and the cone. Then he took her over the playground by their house to work off the soy ice cream.
I packed up the car with a change of clothes for both Alysa and myself and plenty of wipes. I also brought Alysa's old robeez for her to wear so she wouldn't get ice cream on her sandals. We also took my Mom's car so just in case, my car would not get dairy contaminated. We got Alysa a baby vanilla ice cream cone with rainbow sprinkles. Although she wouldn't hold the cone until the ice cream was all gone (she hates getting messy), she devoured all the ice cream – mind you, the whole time, in between bites, she was cleaning up the mess with napkin after napkin. After her cone, she shared my ice cream and my Mom's. The girl had a TON of ice cream. She was adorable and she apparently impressed some of the other people there as my Mom got comments when I left to clean her up how much she talked, etc. Like any Mom I'm all for hearing how wonderful and adorable my daughter is.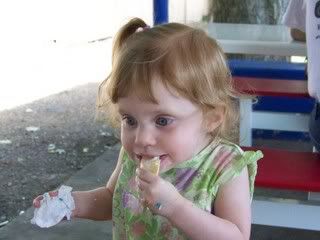 Then came the cleaning – we stripped her down (if we had a hose, I would have hosed her down), but we cleaned her thoroughly and got her dressed. We then took her to meet Kayla and Gramps at the playground. The girls played for a while and at one point, not thinking anything of it, noticed she was playing with some pine cones. I did comment about her allergy to pine trees to my Dad. But it really didn't register, as plenty of times when we're outside; she gets a runny nose from her environmental allergies. Also note she was holding it for only a short amount of time.
Back at my Mom's, we had dinner – of which Alysa refused to eat, of course – which is par for the course with all 4 of her molars coming through. What we didn't expect was her to throw up during dinner. And I don't just mean a little. So my food allergy mind goes right to the darn ice cream. She had no other symptoms – no hives, etc. Not that it means anything. I was hoping she just had TOO much ice cream. No such luck since she threw up a total of 5 times in about an hour and a half. My Mom was nice enough to drive my car home with my Dad following us so I could sit with Alysa in case she threw up on the way home. Luckily she only did once but it was her last time. But…on the way home, I remembered the pine cones. Not just the pine cones but the fact that Christmas morning, after sitting practically under the tree and playing with presents that had pine needles all over them, that she threw up 3 times that morning b4 we got rid of the tree and all the evidence of one. Plus, she didn't seem to be
sick
since in between throwing up, she was happy and playing – no fever, etc. I hope for Kayla's sake (her party is Saturday) that it's not a virus. Not that I want her to react that badly to pine trees and cones, but since she has, I'm hoping it was that and NOT a virus. But of course, I'm hoping if it's not the pine cones, it had BETTER be a virus and NOT a milk reaction. So far, no one else has gotten sick, but…it can take time. With Kayla being so susceptible to stomach bugs, I'm thinking if she's going to get anything, it would have been by now or by the end of the week. Only time will tell… Luckily they both see their allergist on the 25th.
Then yesterday, it clicked – my Mom and I were SO focused on Alysa being sick and trying to take care of her. NEITHER of use registered that she was throwing up DAIRY right next to Kayla. Now of course we took great care in keeping Kayla way from it for obvious reasons, but NOT for the dairy reason. I'm just not used to Alysa eating dairy – especially in those quantities. I'm a horrible Mommy!
---
J took Kayla this morning to get her blood drawn for her newest dairy allergy testing. She did really well. As soon as she realized where she was, she told J "I don't want to be here. I want to go home." When he said they had to be there, she asked "Are we here for Alysa?" She's a trooper though. So now it's onto a nerve-wracking wait for the results. I can't say I'm expecting her levels to have dropped to normal in the past 3 months. But we shall see. Her allergist obviously thinks there's a chance, otherwise he wouldn't be having her tested again already. I'm also trying hard not to let my hopes get too high so I won't be too disappointed if the results are not as we want them to be.
I'm working this week on finalizing Kayla's party. I have to complete my shopping list and then actually shop. I'll be doing some tonight and J will do the rest tomorrow night. Currently the forecast is for isolated thunderstorms. I'm hoping that goes away or they're isolated AWAY from our house. On Sunday I was telling Kayla everyone who would be at her party. When I was done, she said, "Can Kayla come?" Apparently she thinks it will be a happening party!
I hope everyone is having a great week.

posted at
11:41 AM
4 comments