Sunday, July 29, 2007
A Mish Mosh
It's been a busy few days here. I had a short week at work, as I had off on Thursday. Wednesday night I had a night out to dinner with my girlfriend, which is always nice. Then on Thursday, I was off. It was a busy day, but we got a lot accomplished. Alysa had an appointment to get her eyes checked. I had noticed some yellow instead of red in some pictures, and knowing it can mean something really bad, I wanted to get her checked asap. Luckily, her eyes are perfect. It was apparently just the lighting or camera angle. Thankfully. It was cute though. She had me read her Elmer books while we were waiting for the doctor. So then after her eyes were dilated, she wanted me to read to her again. She got her Elmer books, got up in my lap and settled in. I opened the book in front of her, and then she grabbed it and pulled it real close to her face, then she proceeded to move it back and forth. I then took it and moved it far away from her face. Her response? Thank you. :) But then, she pulled it closer again (where it "should" be in her mind). When she realized it was blurry again, she put the book down and decided to climb on the chairs instead.
Thursday afternoon, we them to get their portraits done at Babies R Us for Kayla's 3rd birthday. Kayla was a dream. She posed so nicely and listened to the girls. Alysa on the other hand was a miserable crank. She was uncooperative and cried. She wanted nothing to do with anything there except a squeaky bear toy that she appropriately named "Squeaky". The girls thought it was adorable, but I know she named is Squeaky after Boot's toy "Squeaky" in one of the Dora episodes. ;) Luckily we were able to get a few cute pics of Alysa smiling.
Friday, I took Kayla with me to pay her preschool tuition. She was SO excited to go to school. I was very proud of how well she talked to the women there. She just kept telling me she was going to school to see her new friends. :) I hope this upbeat attitude about school continues. When we were leaving she asked to stay and play with the other kids (they were there for summer camp).
Friday night, I had a happy hour with some of my coworkers. It was a nice time and the new President came and treated. Even better. LOL
Saturday, we never made it to the balloon festival b/c they were calling for severe storms all weekend. It's not worth the money or time if there is not going to be a balloon launch. W/o the launch there is tons of food, (which we can't have), a few rides (but only like 4) and some music. So we left Alysa with my Dad and took Kayla to the Crayola Factory for some arts and crafts fun. She loved it. At the end she was too tired to walk and just had her head on my shoulder with her thumb in her mouth. But when I suggested going home, all I got from her was "Want to see something else". At least she didn't fight us when we did leave.
Then the girls spent the night at my parents, so J and I went out for a cheese dinner followed by Rita's custard. Then Sunday morning b4 he went to work, we went out for a dairy-filled breakfast at Bob Evans. Yum!!! I had my best friend's shower Sunday afternoon which was really nice. I went a tad overboard with her gift. But she's my best friend, it's her first baby and she battled infertility too. So, she deserved it. :) I missed the girls, but it was nice to get a few errands done, eat out and enjoy some adult time. But with the shower, I never got any time to catch up around the house or do any digi scrapping. Bummer. Guess I'll have to arrange another sleep-over with my parents. ;)
I also hit some Children's Place sales with my coupon and started Kayla's fall shopping. Luckily Alysa doesn't need much but I got her a couple things. Then I had to go back and forth to trade for different sizes. They're so skinny it makes it hard to find the right size pants. The balance of the the waist and length is what I'm always fighting. But I love what I got.
But...Kayla is back to sleeping through the night. She was a nightmare, literally for almost 2 full weeks after my solo Ohio trip. It's nice to not be woken up and deal with temper tantrums at 2am anymore.
Saturday night at my Mom's, my parents were eating cheese and crackers after the girls were in bed. Well, Kayla likes to get up and go potty a few times sometimes if she's not ready for sleep. So she came out of her room and went to go in the kitchen. My Mom stopped her and told her that they were eating dairy so for her to wait until she washed her hands and mouth. Kayla listened and was fine. Then when she was in the bathroom, my Mom again explained to her that they were eating dairy. Kayla looked at her and asked "Can I have dairy?" Oh, it broke my heart to hear this. It's the first time it's really clicked with her. My Mom told her no b/c it will make her sick. She then asked if Mommy and Daddy can have dairy, so my Mom explained basically that everyone can, but her. How sad. The next day, my Mom had a pork roll sandwich on safe bread with just mayo. Kayla looked at it and my Mom offered her a bite and told her she'd like it and that it's kind of like bacon (she LOVES bacon). Kayla went to take a bite, then stopped and asked "Is it dairy?" Oh my gosh, I can't express how proud I am of this amazing breakthrough. But it also ripped my heart out. It's hard enough to live with a food allergy, but as a parent, it's heartbreaking to know that one day your child will know they're missing out of something and will eventually be hurt by it - whether it be feeling left out or being teased or just plain scared of food. It's something you want to hold off on for as long as possible while also teaching them to be safe. And honestly, since the odds are in her favor to outgrow and especially since she had started to outgrow it, I had hoped that she would outgrow her allergy b4 it hit her like this, to both safe her the upset and to avoid her becoming afraid of dairy, thereby making it harder to get her to eat it down the road. But...that has not happened. But I am proud to see that she is developing an understanding and mostly the understanding to question what food is offered to her. It's a huge step in her learning how to advocate for herself and keep herself safe.
To end this super long post. I have a couple really cute things that Kayla has said to me recently.
The one day I was in the kitchen and I heard Alysa whining. I walk in and she's on the floor. I asked her what happened and she pointed to Kayla and said "Push Alysa" (Kayla can't get away with it anymore). So I looked at Kayla and said - did you push Alysa? She looks right at me and says "Yup, I sure did!". Needless to say, I had to leave the room for a minute. :)
On another day, Kayla comes up to me and says, "I'm broken Mommy. I need batteries."
And lastly, J hung my new pot rack. He was not happy I got it since he "doens't like them". But it's functional and I'm thrilled with it. Plus I got it on ebay and didn't spend a lot - even with shipping. Can't beat that. :)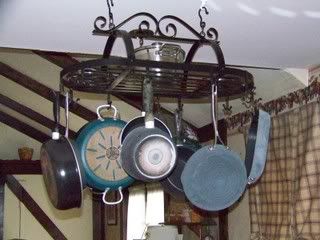 I hope everyone had a good weekend. My next step is catching up in bloggy land.

posted at
8:25 PM
3 comments