Tuesday, January 30, 2007
My Great Buy
So I don't spend a lot of money on myself. As a Mom, I feel guilty if I do and honestly, I'd rather spend the money on the girls anyway. Ok - so I splurged a little bit at the Pampered Chef party Friday night. Hey, I never said I'm perfect. But that's kitchen stuff. That can't be wrong, right?
Anyway, this weekend, I happened to be up by my parents' house on Friday night for the party and on Sunday. So, I finally took my engagement and wedding rings to be sized. I had to have them sized bigger after Kayla. I couldn't get them on my finger if my life depended on it, even after I got to my pre-pg weight. And now, the rings were falling off my finger. I was afraid of losing them. So I finally took them in Friday night and picked up my snug (and brilliantly clean) rings on Sunday. After I picked them up, I went next door to the LL Bean Outlet. I miss this area. Where I live, there is not an outlet store to be seen. Very sad. I was hoping to find some good deals on clothes for the girls. They had barely anything for the girls, although I did find a pair of 3T pants for K for next year that I got for $7.
While there, I couldn't resist looking at their coats for me. I have my light fleece and my heavy, fake fur-lined suede coat. The heavy coat is not something I can wear when it's raining and it's WAY to bulky to wear when I'm trapsing around with the kids. So I looked. And I left with a beautiful, warm, yet light-weight $130 LL Bean coat that I got for $35. Like I said, I don't spend a lot on myself anymore, so the fact that I have a brandy new coat is thrilling. Although, if I had spent $130 on it, I'd be sick over it. So I'm actually more excited to have gotten such a nice coat for $35. You can't beat that type of 'natural high'. Even J was impressed with it. I hit the jackpot!
Here's my new coat...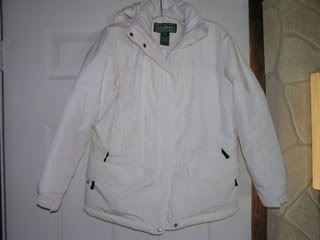 posted at
8:56 AM
4 comments