Tuesday, December 26, 2006
Settling Back In
Well, Christmas is over and now it's time to settle back in to normal routines. I spent today cleaning and cleaning and more cleaning. Add some organization and finding spots for all the new stuff Santa brought the girls.
Yesterday was great. We had a great day and the girls are thrilled with all their new things. Alysa, like a typical 1 year old, was just as thrilled with all the boxes. Kayla officially loves Santa now. She was very happy with all he brought her. I will say, he has excellent taste. We approve of everything he brought them. Very fun and musical and artistic and educational toys. Lots of things to count and sort (which Kayla is in heaven with). And that means lots for Alysa to mess up (Kayla's not thrilled with that).
But sadly, my suspicions were also confirmed about Alysa. Alysa has been plagued by allergies, not colds. She is allergic to evergreen trees. We will hopefully get medical back-up on this on Jan 2nd when we take her to see the Allergist. I had suspicions about the tree over the past week. Yesterday morning, after spending a half hour or so opening gifts right "under" the tree, she got very cranky. So I fed her, which she barely ate any of. Shortly after, she threw up twice, all while choking and gagging. She had no fever and was otherwise acting normal (and of course the runny nose started after being downstairs. So we put her up for a nap and let K finish unwrapping her gifts. Then down came the tree. That was the last we saw of a runny nose on Alysa. She has been prefectly clear every since.
On the one hand, I'm glad we know what was causing her "sickness" and that we were able to fix it. But on the other I'm devestated. I love my real trees. Not just the pine scent and the look, but the tradition and fun of taking our girls each year to the tree farm, picking out the tree and cutting it down. That is the part that will upset me the most each year.
As my
Sister
, so nicely pionted out to me, we have given up dairy and real Christmas trees for our kids. The things we do as parents. :)
Here are some pics of the girls enjoying Christmas...
Here is Kayla hanging up the Santa Key:
The girls seeing the tree in the morning:
Alysa thrilled with her tambourine:
Kayla taking a "picture" of Alysa: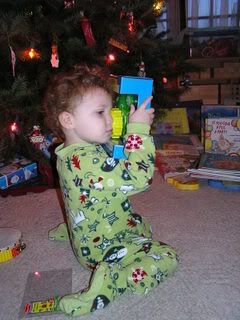 Kayla in her new Cloak: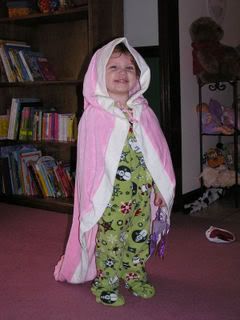 My happy girls: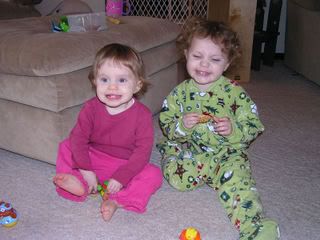 All of us:
I hope you all had a great day. I can't wait to hear all about your day!

posted at
8:31 PM
1 comments