Wednesday, October 18, 2006
A Special Thank You...
I wanted to thank Jerome, my husband for being an amazing father. In marriage it's easy to take each other for granted in the day-to-day routine. Well, Sunday while at a birthday party for our niece and nephew, he showed me again, what a wonderful and attentive father he is.
On Sunday, at the party, Jerome was playing with Kayla outside and running up and down the hills in BIL's back yard. They were having a lot of fun. There was this little girl, maybe around 3 or 4 who was running around near them. At one point, Jerome was running up the hill with Kayla and the girl went up to join them, she said something to Jerome and he in turn said "come on" to her. But then, she reached out and grabbed a hold of his hand. Now, normally this would not be an issue. But for us, it is b/c right after Jerome had to go wash his hands b/c of Kayla's allergy. She of course had been eating at the party and he could then not touch Kayla b/c she most likely had dairy on her hands (and it's not a chance we can take). Subsequently, as she came back up to us to ask us to "help" her run up the hill, we had to nicely decline. Now had her parents been with her (we don't know her or her family), I would have nicely asked them if they could wash her hands, explained why and then we would have been comfortable with her playing with Kayla - w/o any worry as to her touching us or Kayla. But they were not. Now, we would never have ignored her and we were not, we just would not "help" her as she wanted to hold our hands. And we simply told her that we were playing with our daughter and helping her climb the hills. Jerome at one point told her that he was playing with his daughter and said "why don't you ask your Daddy for help?" Her response? He said no. And to make it harder, she kept asking us and would say "I want YOU to help me". It was heartbreaking. Later, we saw her near what we assume was her father. And where was he? Glued to the TV screen they had outside with the football game on.
It really helped reaffirm how lucky I am and most especially my girls are to have a father like Jerome. He ALWAYS puts them first. And most importantly, he WANTS to play with them and enjoys it. It has nothing to do with obligation. He changes poopy diapers out of obligation, but he plays with them out of desire! And at that party, I felt so very lucky that majority of the time, he was out there with his daughter playing, rather than leaving her to entertain herself. I can only hope that he set an example for the other fathers. After all, aren't parties like these about family? And what closer family bond exists than that between a parent and child?
Thank you hon from both myself and our girls!
Here are a couple pictures of them at the party...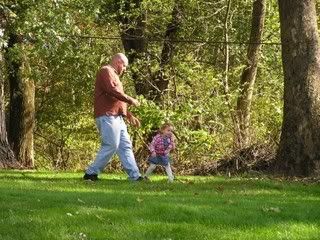 posted at
3:06 PM
2 comments