Tuesday, July 07, 2009
American Girl & Food Allergies
I just had to share my newest find. I love when companies put the positive spotlight on food allergies. Don't get me wrong, there are not many positives to having a food allergy, but with so much negative press, having it pop up with a positive or even just an every-day-reality-type spin on it is a breath of fresh air. I get excited to see even the smallest company or article giving food allergies some positive attention. So it's even better when larger and well established companies jump in.
Recently, Kayla discovered
American Girl
. Since then she has created a wishlist of wants from their catalog. The other night I received an e-mail from a close friend who's daughter is also into American Girl. American Girl has come out with a new lunch box set for the dolls. As with all their stuff, it's an adorable set, but what makes it so special to me is not the cute sandwich on the croissant or the box of raisins or apple sauce cup. It's not even the adorable lunchbox cooler. But it's the "littlest" thing - this set of 4 stickers...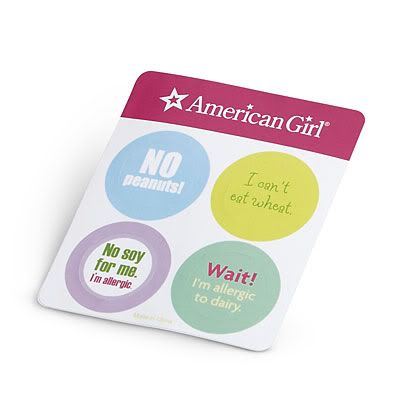 Kayla gives all her dolls and stuffed animals allergies. The cat is allergic to mice, the dog is allergic to bones. And since she knows I am allergic to cats, she feeds her cat stuffed animals special food so "Mommy will be safe", and so on and so forth. So this will absolutely make her day! A friend of mine is getting this for her and I can't wait!
I don't even have this yet and I left a review for the product praising American Girl for their thought and attention to kids who live with food allergies. Even their product description is heart warming.
"A sheet of allergy stickers your girl can use to help her doll stay safe while she snacks"
It is through products like these that our jobs as food allergy parents do and will get easier. For us it's a fact of life and I for one am thrilled to be able to give Kayla something that will help her to feel, as
Gina
put it, like
"One of the Gang"
.
Thank you
American Girl
!

posted at
8:00 AM
4 comments