Saturday, May 23, 2009
Fun Times
J and I were able to get out last night for dinner and a movie with friends. Yes, I actually went to the movies. We at at Pizzeria Uno and saw the Terminator movie. Both were very enjoyable.
The group of us
The girls have been spending a lot of time outside this week. We've finally gotten many days in a row with no rain. Today, while they were riding their bikes, Kayla asked me to take a picture, and of course, I was happy to accomodate her.
A couple days ago, I got around to doing some digi scrapping for myself. My nephew Colin calls Alysa Smiley. So I decided to look through for some of her best smiles. I found so many I had to make it a 2 page spread because I couldn't decide.
Page 1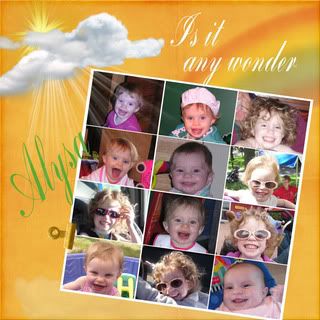 Page 2

posted at
2:31 PM
3 comments