Sunday, March 15, 2009
Just like her Mom
I walked in the playrom on Friday and saw Kayla sitting at her tool bench. I mean - correction - her computer.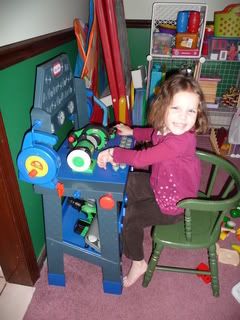 Now I head back to my sick kids. Yes, again! Alysa is still recovering, although she's doing really well, but Kayla has a virus again - fever, headache...you know, her normal!
Calgon, take me away!!!

posted at
4:20 PM
5 comments